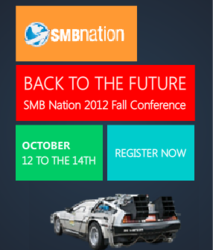 Bainbridge Island, WA (PRWEB) August 15, 2012
SMB Nation announced today that it is now accepting nominations for its annual SMB Nation Hot Shot Awards contest. The Hot Shot Awards recognize SMB channel vendors who have made a difference for VARs, MSPs, and IT consultants through their commitment and efforts in the SMB IT space.
The awards will recognize vendors in 11 different areas, including Backup and Disaster Recovery, Cloud and Virtualization, Hardware and Peripherals, Managed Print Services, Marketing and Educational Services, Mobility, On-Premises Infrastructure, Remote Monitoring and Management, Professional Services Automation, Security, and Unified Communications.
Anyone interested in nominating a vendor for the Hot Shot Awards can do so by following the instructions available at fall.smbnation.com. Nominations and preliminary voting commence today and will continue through September 15, 2012. One vote per IP address per day is allowed.
Once the preliminary voting period closes, a panel of SMB channel experts will review the ballots and make a final determination based on the vendor's product diversity, uniqueness, ability to enhance the SMB industry, cost efficiency, ability to overcome technology obstacles, and impact on SMB IT solution provider operations.
The Hot Shot Awards will be announced and presented at the SMB Nation 2012 Fall Conference at the Rio Conference Center in Las Vegas from October 12-14, 2012.
Beyond the Hot Shot Awards, this year's fall conference will focus on "Life After Small Business Server" and the ongoing transformation of the SMB technology channel due to cloud computing, virtualization, mobile computing, Windows 8 and Server 2012, and other emerging technologies.
For additional information, please contact:
Jennifer Hallmark
Vice President of Operations
SMB Nation, Inc.
PH: +1 206-201-2943
Fax: +1 360-824-6042
Toll Free: 1-888-SMB-NAT1