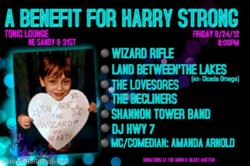 Portland, OR (PRWEB) August 20, 2012
On Friday, August 24th the Mt. Scott-Arleta community will be hosting a fundraiser in support of Harry Strong, who was injured in a SE Portland car accident on July 19th while walking with his mother and baby sister.
During the accident, Harry suffered several serious injuries, including a traumatic brain injury. While many car accident injuries can be serious, child car accident victims can be more life-threatening as their size makes them more vulnerable.
After being in the ICU, Harry was moved to the Randall Children's Hospital. Currently, he is at home recuperating. Happily, he is responding very well to therapy. In the meantime, his family's friends and neighbors are not sitting idle – the whole community has gathered to help the family get through this very difficult time.
There are currently several efforts being made to support the family:
1) Donations can be made in Harry Strong's name through any US Bank location, and to Caring Bridge via a Facebook event page that has been established.
2) Community members gathered to clean and mow the Strong family house, as well as to finish a flooring project, which was left half-done when Harry got into the accident.
3) A vigil was held at the site of the accident.
4) Many people brought food to the hospital for the Strong family.
5) The Mt. Scott-Arleta neighborhood has been pulling out all the stops for the August 24th benefit!
The August 24th Benefit, the highlight of the fundraising efforts, will take place at 8pm at The Tonic Lounge (3100 NE Sandy Blvd, Portland, Oregon 97236). There will be live performances by WIZARD RIFLE, LAND BETWEEN'THE LAKES, The LOVESORES, The DECLINERS, SHANNON TOWER BAND, MC AMANDA ARNOLD, and DJ HWY 7. There will also be a silent auction with 100% of the proceeds and donations from the show and auction going to Harry Strong for medical treatments and expenses. The event is being sponsored by several community businesses, including KBOO and Shulman DuBois LLC.
We applaud the way the community has rallied to support the family, and we hope Harry continues to recover. According to the CDC, motor vehicle accidents account for over 17% of traumatic brain injuries, and there are 473,947 visits made each year to the ER by children ages 0 to 14 for brain injuries.