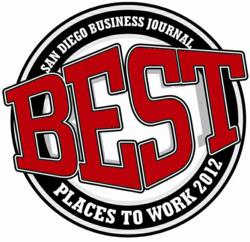 "I am proud to own a company that is home to so many outstanding professionals and truly flattered that we have been named one of The Best Places to Work in 2012."
San Diego, CA (PRWEB) August 16, 2012
The San Diego Business Journal recently recognized Samuel Scott Financial Group as one of the Best Places to Work. This news comes just months after the boutique mortgage company was once again selected as the Best Mortgage Company in San Diego by reader's of local publications.
"It has been wonderful to watch Samuel Scott Financial Group grow and take on such a strong role in the community," said President and Founder, Todd Pianin. "I am proud to own a company that is home to so many outstanding professionals and truly flattered that we have been named one of The Best Places to Work in 2012."
Through their county-wide survey and awards program, The San Diego Business Journal identifies and honors the best places of employment in San Diego, benefiting the county's economy, workforce and businesses. Best Places to Work winners have best practices that include: rewarding hard-working employees, investing in employee training, offering wellness programs, and providing opportunities for team-building and social activities. They salute companies that have worked hard to create environments where their employees enjoy going to work.
"The average person spends more time at work than they do at home, and financial professionals are notorious for putting in long hours," said Pianin. "The company culture is going to have an impact on your life. Knowing that everyone's success is tied to their happiness, we make creating a positive workplace a top priority."
From the glass front entrance to the two large conference rooms at the Samuel Scott's Carmel Valley office, everything is well kept and well equipped. Employees enjoy an oversized kitchen (complete with popcorn machine), business center and easy parking. Social events like Bowling Nights, Glow Ball Golfing, BBQ Lunches and Holiday Parties fill the schedule. Both the Vice President of Sales and Vice President of Operations incentivize their teams with contests and rewards.
"Last month we gave away four Gold Eagles and a trip to the Montage in Beverly Hills to the leaders in our sales and processing teams. Winning bowling teams went home with new iPads. It's fun and it keeps people motivated," said Russ Schreier, Vice President of Sales."We're a growing company. So it's important to make an extra effort to give people the attention and the recognition the deserve."
Samuel Group Financial Group is expanding throughout Southern California. To discuss career opportunities for Mortgage Advisors and loan professionals, contact Russ Schreier at 858-436-1187 or Russ(at)SamuelScottFG(dot)com.
About Samuel Scott Financial Group
Samuel Scott Financial Group is a boutique mortgage company recognized for superior customer service and the way their Mortgage Advisors tailor the residential loan process to fit each individual client. Todd "Samuel" Pianin and Brian "Scott" Reynolds founded the company on the principles of building long lasting relationships; putting the client's needs before their own; and taking an honest approach to every single transaction. Consistent and reliable, Samuel Scott Financial Group has been selected as The Best Mortgage Company in San Diego for the 6th straight year by readers of local publications. In 2012, the San Diego Business Journal recognized Samuel Scott as one of The Best Places to Work in San Diego.
Samuel Scott Financial Group is licensed by the CA Dept. of Real Estate, Real Estate Broker License 01458652 and NMLS 235584. Equal Opportunity Lender. All rights reserved. ©2012 Samuel Scott Financial Group.
For more information on the Best Places to Work in San Diego program, visit http://www.BestPlacesToWorkSD.com
# # #