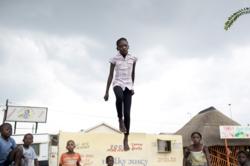 "AFAR has really been a pioneer in creating this kind of event for curious travelers. It's fantastic to see where travel can take you and we believe this event will really offer guests a once-in-a-lifetime opportunity." Greg Sullivan, Founder, AFAR Media
San Francisco, CA (PRWEB) August 15, 2012
AFAR Media is putting the final touches on the itinerary and speakers for AFAR Experiences South Africa, taking place in Johannesburg October 8-11, 2012. For a more exclusive and intimate travel experience, space is limited. Registration is still open and more information can be found here.
The second in the travel media company's immersive travel series AFAR Experiences, the upcoming four-day event promises to bring travelers beneath the surface of this fascinating and historic city for four days of celebration, discovery and connection with high-profile locals in the worlds of politics, art, architecture, food, design, business, anthropology and more. Emirates Airline and South African Tourism have partnered with AFAR Media to make this one-time event possible.
"We've always believed that meaningful travel is about experiencing a place through the eyes of the locals," says AFAR co-founder Greg Sullivan. "We want to give travelers the opportunity to really see Johannesburg – past, present and future – and to truly engage and talk with people they might not otherwise have met, certainly not across so many spectrums in such a short period of time. That's what AFAR Experiences is all about. We're really excited about what we've lined up for this trip. It's going to be amazing."
Co-founder Joe Diaz, as well as several members of the AFAR leadership team, will be joining Sullivan in Johannesburg.
HIGHLIGHTS
The full itinerary and roster of speakers can be found on the AFAR Experiences web site, but highlights include:

A private dinner at Lilliesleaf Farm former headquarters of the ANC and safe house to Nelson Mandela, with opening remarks from South Africa's former Deputy President, Phumzile Mlambo-Ngcuka, followed by a talk from Denis Goldberg, a prominent ANC member arrested during the infamous raid on the farm.
An exclusive visit to the Apartheid Museum with thespian and activist John Kani followed by lunch in the Museum's landscaped veld with its architect Patrick Watson.
An extraordinary visit to the Cradle of Humankind with renowned paleoanthropologist Lee Berger, followed by a Bush Party near the Cradle.
A spirited walk through the historical buildings and street markets of Johannesburg's Central Business District with local city expert Gerald Garner.
An invitation into the home and studio of celebrated architects Silvio Rech and Lesley Carstens.
An intimate look inside the studio and collections of award-winning South African fashion designer David Tlale.
Fiona Rankin Smith, Special Projects Curator for the Wits Art Museum will provide a guided tour through this beautiful, recently opened space.
Mark Read will host an intimate discussion about South African artists in his stunning gallery.
Mark Valentine, owner of the Amatuil emporium, will guide travelers through the rich collection of African art he's personally sourced from the African continent.
Beauty Maswanganyi will provide hands on instruction in designing custom African-inspired jewelry at Piece, the design shop exquisitely curated by Eugenie Drakes.
Other prominent locals joining AFAR travelers include:
Edwin Cameron, Justice of South Africa's highest court, first appointed as a Judge by President Mandela in 1994.
Bongani Ndodana-Breen, award-winning composer.
Nic Dawes, Editor in Chief of South Africa's Mail and Guardian.
Clem Sunter, revered futurist, author and HIV/AIDS activist.
Jonathan Liebmann, urban visionary, known for the development of the Maboneng Precinct and Arts on Main.
Kuben Naidoo, head of the secretariat at the National Planning Commission.
"AFAR has really been a pioneer in creating this kind of event for curious travelers," says Sullivan. "We feel so deeply that travel is a chance for discovery, personal growth and celebration of different places and perspective. It's fantastic to see where travel can take you and we believe this event will really offer guests a once-in-a-lifetime opportunity."
For more information about this unforgettable AFAR Experience South Africa, please visit http://www.afarexperiences.com.
ABOUT AFAR MEDIA
AFAR is the multi-platform travel media brand that inspires and guides those who travel the world to connect with its people, experience their cultures, and understand their perspectives. Headquartered in San Francisco, with an office in New York City, the company launched in 2009. Its platforms include the award-winning AFAR magazine, AFAR.com, the AFAR mobile app, the non profit AFAR Foundation, and immersive travel series AFAR Experiences.
ABOUT EMIRATES AIRLINE
Emirates, one of the fastest growing airlines in the world, has received more than 500 international awards and accolades for excellence. Emirates flies to 123 destinations in 73 countries across six continents and is the world's largest airline in available seat kilometres. Operating 17‫4‬ wide-body Airbus and Boeing aircraft, including an industry leading 21 A380s, Emirates has orders for an additional ‫229 ‬aircraft, worth more than USD$84 billion.
ABOUT SOUTH AFRICAN TOURISM
South African Tourism is the national tourism agency responsible for the marketing of South Africa as a preferred tourist destination. It is headed by Chief Executive Officer Thulani Nzima and Chief Operating Officer Timothy Scholtz.