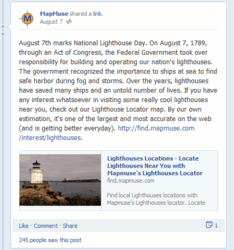 We like to have fun with our posts. They're meant to serve as a daily pick-me-up for fans, something they can check while waiting for their morning coffee to brew.
Reston, Virginia (PRWEB) August 21, 2012
MapMuse today announced the launch of the official MapMuse Facebook Page, a place where fans of the company's mapping and location services can interact with each other and receive daily announcements. MapMuse's staff will regularly post new maps and interesting facts that tie into the content published on its website.
"We've had a large user base for quite some time now," says MapMuse.com founder Mike Pilon, whose site receives over a million visitors per month. "The Facebook page is one of several initiatives we're taking to turn that user base into a cohesive community." Although a MapMuse Facebook Page has existed several years, the company has only recently made a concerted effort to establish it as an interactive supplement to its webpage. For example, they have begun publishing posts that recognize national holidays with links to related maps, regardless of whether the holiday is as significant as Christmas or as trivial as National Cheesecake Day. Recent posts have recognized:
-National Lighthouse Day with a map of lighthouses (and accompanying photos) around the world
-National Fried Chicken Day with a map of restaurants serving Chicken and Waffles
-National Lollipop Day with a map of candy stores giving out free lollipops
-July 4th with a map of fireworks shows across the country
-National Scrapbooking Day with a map of Scrapbooking Clubs accepting new members
"We like to have fun with our posts," says Pilon. "They're meant to serve as a daily pick-me-up for fans, something they can check while waiting for their morning coffee to brew." Other themes used in posts include "On This Day in History," which commemorates the anniversary of an important (or unimportant) historic event by linking to a related map, and blurbs about current events, which link to maps that expound upon or complement important news.
Judging by a recent surge in page "likes," the new strategies being employed by the PR team seem to be working. "We surpassed six hundred 'likes' earlier this month," says Pilon. "We'd like to see that number reach four digits by the end of the summer." At the current rate, that goal seems well within MapMuse's grasp.
MapMuse, an internet and app development company based in Reston, VA, has been providing the general public with interactive maps of brands and interests since 2000. The company has made it their goal to map any topic that can conceivably be geolocated, and their thousands of maps run the gamut from the very broad (e.g. Beaches, Italian Restaurants, Cigar Bars) to the very specific (e.g. Revolving Restaurants, Nude Beaches, Restaurants featured on Food Network Shows). MapMuse also releases app versions of their more popular maps on the Apple Store and Google Play Store.
Click here to view MapMuse's Facebook Page.
For more information about MapMuse, please visit their website.