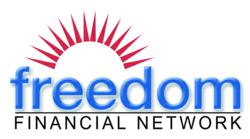 Back-to-school spending will reach $83.8 billion this year. Shop smart with these 13 tips.
San Mateo, Calif. (PRWEB) August 15, 2012
After several years of a downward trend, experts expect back-to-school spending to rebound in 2012, which makes it especially important for shoppers to put dollars to good use and avoid excessive debt, said Kevin Gallegos, vice president of Phoenix operations for Freedom Financial Network (FFN).
Research released recently indicates that total back-to-school spending will reach $83.8 billion this year. That includes almost $700 per person with children in grades K-12 and more than $900 for back-to-college students. To put it in perspective, the total is enough for an average U.S. household to buy groceries for two months.
Gallegos offered these 13 tips for smart school shopping and spending:
1. Be patient. Most school supplies are not needed before school starts, and most children can still wear summer clothes for at least a few weeks. Holding off on purchases allows parents to confirm what is needed and watch for great deals. Additionally, many items go on clearance after school begins.
2. Take inventory. Items such as rulers, calculators, pencil boxes and backpacks don't necessarily need replacing each year. Parents can inventory existing school supplies at home before heading to the store.
3. Think ahead. Many supply needs will stay the same from year to year. Others – like an expensive calculator or a new computer – can be foreseen a year or so in advance. Families can save by shopping for these items as they find great deals (new or used). Parents should be cautious, however, not to become overzealous and buy unneeded items or items that will be obsolete by the time they are needed. "Overdoing bargain shopping can be just as hazardous as overspending at regular retail prices," cautioned Gallegos.
4. Use cash. Taking a predetermined spending amount for back-to-school expenditures in cash can help stay on budget. In addition, people who do not use debit or credit cards are less likely to exceed their budgets.
5. Redeem credit card rewards. A credit card that offers reward points can add extra funds to the back-to-school budget. Those with rewards points can redeem rewards as a statement credit or as a gift card that could help purchase back-to-school items. Alternatively, shoppers who plan to make purchases at certain stores can earn double points for shopping via the credit card website. The key is to be certain all balances can be paid in full.
6. Keep an eye on ads. Office supply stores offer competitive end-of-summer sales. "Don't waste gas driving from store to store," Gallegos suggested. "Take sales circulars with you and ask a manager to price match."
7. Be creative. Families can generate extra cash by selling unneeded items on eBay, holding a yard sale or putting change into a jar every evening. Some coin counting machines allow users to convert change to gift cards at no cost. An Amazon card could help buy textbooks; giving an iTunes card as a gift could free up $25 for supplies.
8. Recycle. The old-fashioned term is "thrift-store shopping," but kids do not need to think of it that way. Even label-addicted teens might be sold once they realize that they could score brand-name clothing at great prices. Parents can check consignment shops, both to buy and to turn outgrown garments into cash or credit. Yard sales, eBay and Craigslist can turn up everything from clothes to cleats to backpacks.
9. Join a club. Warehouse clubs offer deals on clothing -- especially basics like undergarments, jackets and jeans. "The selection is limited, but the items usually are high quality and can be a great bargain," Gallegos noted. For the smartest spending, pay in cash – take along only a budgeted amount and leave the checkbook at home. In addition to classic back-to-school items, club shoppers can find low gas prices, deals on long-distance phone cards for college student (and parent) use; and good prices on bakery items and lunch supplies.
10. Swap with others. One neighbor's 8-year-old may be too cool for last year's Barbie backpack, but it could be perfect for another's kindergartener. Savvy bargain-hunting parents can swap – or purchase at a discount – clothes and school gear that their children have outgrown.
11. Save money on uniforms. Uniform apparel endures year to year, so it is a good item to purchase year-round when on sale. Parents can buy items one size up for next year, check consignment stores, and ask other parents if they're interested in giving away (or selling) older children's gently worn clothing.
12. Take advantage of tax savings. More than a dozen states offer tax-free weekends where the sales tax is waived on school purchases up to a certain amount. Find out which states participate (and when) at the Federation of Tax Administrators.
13. Budget for next year. "Budgeting now for next year's back-to-school shopping is one of the smartest things families can do," Gallegos said. Families can sit down together and set goals, then create an annual budget that takes into account income, monthly expenses and savings. This budget will dictate expenditures and take the guesswork out of available spending for back-to-school items. To prepare for next year's spending, families can decide the amount save for expenses and set aside 1/12th of that in a dedicated account each month.
Freedom Financial Network (http://www.freedomfinancialnetwork.com)
Freedom Financial Network, LLC (FFN), provides comprehensive consumer credit advocacy services. Through its Freedom Debt Relief, Freedom Tax Relief and ConsolidationPlus products, FFN works as an independent advocate to provide comprehensive financial solutions, including debt settlement, debt resolution and tax resolution services for consumers struggling with debt. The company, which has resolved more than $1.5 billion in debt for more than 120,000 clients since 2002, is an accredited member of the American Fair Credit Council, and a platinum member of the International Association of Professional Debt Arbitrators. The company holds the Goldline Research Preferred Provider certification for excellence among debt relief companies.
Based in San Mateo, Calif., FFN also operates an office in Tempe, Ariz. The company, with more than 500 employees, was voted one of the best places to work in the San Francisco Bay area in 2008, 2009 and 2012, and in the Phoenix area in 2008, 2009 and 2010. FFN's founders received the Northern California Ernst & Young Entrepreneur of the Year Award in 2008.
(end)