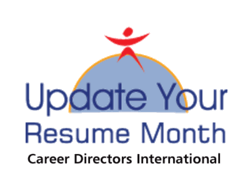 Don't wait until the need to find employment or change jobs arises – use Update Your Resume Month as the motivation to revamp or renew that resume now and be ready for whatever may come!
Melbourne, Florida (PRWEB) August 15, 2012
Twelve years ago, the global association of resume writers and career coaches, Career Directors International (CDI), launched the registered event, Update Your Resume Month. During this month, adults are encouraged to update their resumes in order to 'be prepared' for any opportunity.
In celebration and support, CDI offers the following resume writing tips:
1. Don't Use a Resume to Fish for Jobs. An effective resume is targeted for one specific position or type of position. If the resume reads for 'any' job that the job seeker may be qualified for, it won't work. A resume should work to focus on showing how the job seeker is a match for the position.
2. Be Unique. Not as in using crazy colors or graphics, but in stressing unique selling propositions for the targeted job. A job seeker should ask him or herself, "What's the bottom-line value I offer an employer? How do I work smarter, faster, save the company money, or put it in a better position than it was in before?" By depicting this unique and individual value, it becomes far easier to stand out.
3. Emphasize Key Areas of Expertise. In surviving key word resume scans it is crucial to include a list of said skills in a 2-3 column section near the beginning of the resume. Aim to include 12-21 concrete skills that show the required experience for the job.
4. Become a Story Teller, Not a List Writer. Far too often job descriptions on a resume read like task lists. While this might show a candidate has done the job before, it doesn't provide insight into how this job seeker is any different from the dozens of others applying with the same skill set. Instead of listing tasks, present experience in terms of the challenge faced, the action performed, and the result obtained.
5. Keep it Tight and Avoid Repetition. Stories, key words, and unique selling propositions do not provide a license to write dense content or reuse the same verbs repeatedly. A job seeker should expect to address their resume as a major marketing project that requires an investment of time, review, and rewrites. Keep a thesaurus on hand for finding better verbs, avoid heavy paragraphs or long bullets, and spell check again and again.
6. Don't Go it Alone. Writing a resume is a challenging proposition even for those who work in marketing. Suddenly, the job seeker is not only required to know his/her job but to sell it, survive key word scanners, and make an employer pick THAT resume from hundreds of others. Just as it makes sense to hire a certified mechanic to fix a broken car, it makes sense to hire a certified resume writer.
CDI's Job Seeker Center provides a variety of free resources along with search tips for locating a professional. Resources include:

Instructions on how to successfully vet and select a professional resume writer or career services provider.
Database of CDI member experts who are available to provide services in resume writing, career coaching, job search, career selection, and interviewing.
Expert articles, award-winning resume samples, and results of the 2012 Global Hiring Survey on what hiring authorities want in resumes.
A link to the official Update Your Resume Month page, which provides additional expert tips along with a downloadable resume update tracking form.
Don't wait until the need to find employment or change jobs arises – use Update Your Resume Month as the motivation to revamp or renew that resume now and be ready for whatever may come!
FOR RESUME WRITERS
CDI also encourages resume writers and career professionals to spread the word about Update Your Resume Month. This event offers a crucial reminder to job seekers about the value of keeping their resumes up-to-date or simply taking advantage of recording their new experiences as they happen in order to prepare for their next professional update.
For those who wish to take part, CDI offers official event badges for download.
CDI is committed to helping its members to maintain the pinnacle of skills, making them the industry's top service providers to job seekers.
About Career Directors International – http://www.careerdirectors.com
CDI is a global professional association committed to ensuring that career and resume professionals can grow and thrive in a rich, vibrant, exciting, and nurturing environment. CDI is focused on championing the industry's cause for credibility and visibility; fostering exceptional success in every generation of career and resume professionals; and cultivating the career superhero that exists within each one of us.