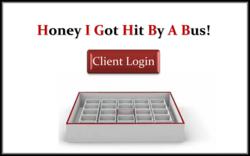 Too often we see that people are not able to make quick and informative decisions because all of their pertinent information is scattered and outdated."
Santa Barbara, Calif. (PRWEB) August 21, 2012
AmeriFlex® Financial Services, a Santa Barbara based and privately owned wealth management company established in 1988 has partnered with eMoney and is now offering a revolutionary organizational system for finances and important documents in one private and secure location. In addition, all financial data is updated as the market changes throughout the day so that clients can monitor their cash flow and see their bottom line at anytime. To preview a brief commercial for the online system called "Honey I Got Hit By A Bus", please visit http://www.HoneyIGotHitByABus.com.
Honey I Got Hit By A Bus, allows all of life's important items to be organized and accessible from any computer at anytime with a secure username and password. With the ability to see items and comprehensive financial statements, including items such as banking and brokerage accounts, cash flow and budgets, asset management and retirement plans, insurance policies, passports and immunization records, clients will be able to make informed decisions based on real time information.
"Too often we see that people are not able to make quick and informative decisions because all of their pertinent information is scattered and outdated. We want to instill confidence in our clients by providing them the opportunity to access all of their most crucial information at anytime and be notified of opportunities or problems immediately so that they can collaborate with their advisors," said Thomas Goodson, founder and CEO of AmeriFlex® Financial Services.
Honey I Got Hit By A Bus will be offered to all current clients of AmeriFlex® Financial Services with specific investable assets. Anyone interested in learning more about Honey I Got Hit By A Bus, or would like to preview the online platform may call Hannah Sink at (805) 898-0893.
About AmeriFlex® Financial Services
AmeriFlex® Financial Services is a privately owned financial planning and wealth management firm based in Santa Barbara, California since 1988. Our team of dedicated professionals helps provide financial confidence to businesses, non-profit organizations, families and individual investors through financial and retirement planning, insurance services, asset management, trust services and 401k plans. For more information, visit http://www.AmeriFlex.com.
Financial Advisors and Registered Representatives associated with AmeriFlex® Financial Services offer securities and advisory services through SagePoint Financial, Inc., member FINRA/SIPC. Insurance services offered through AmeriFlex® Financial Services, which is not affiliated with SagePoint Financial, Inc or registered as a broker-dealer or investment advisor.