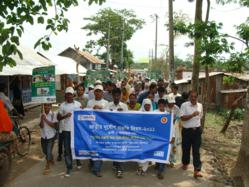 "PCI is proud of the unprecedented success of the PROSHAR community resource fairs, and for the thousands of local residents that have improved lives as a result," commented George Guimaraes, CEO of PCI.
Bangladesh (PRWEB) August 15, 2012
In spring of 2012, PCI Bangladesh conducted four community gatherings in four sub-districts of the Sarankhola region of Southwestern Bangladesh, as part of its Program for Strengthening Household Access to Resources (PROSHAR). PROSHAR is utilizing an integrated approach to empower communities by addressing maternal and child health issues, providing assistance to farmers, and strengthening the country's ability to manage and recover from disasters. The program vice chairmen, government officials, local leaders, elites, religious leader, local NGO representatives, teachers and students attended, along with large numbers of community people. While original event attendance was planned for 200-300 community attendees, each event averaged over 1000 participants.
Bangladesh has made great strides in the fight against poverty. Nevertheless, nearly half of its population of 135 million still lives below the poverty line. The country continues to face numerous obstacles including high rates of stunting and acute malnutrition in children, the constant threat of natural disasters, and poor distribution of health and hygiene services. Most Bangladeshis earn their living from agriculture and, despite steady increases in food production, the growing population continues to place a severe burden on supplies and services, and the country remains dependent on costly food imports.
PCI (Project Concern International) entered Bangladesh in June, 2010. PCI is partnering in the implementation of a program focused on increasing food security among vulnerable households in the Khulna Division of southwestern Bangladesh. About 85 percent of Bangladesh's population lives in rural areas and continues to depend largely on agriculture for its livelihood. PROSHAR is helping increase the income of poor and ultra-poor households by providing trainings that will help farmers enhance on- and off-farm productivity, improve agricultural practices and technologies, and gain a better understanding of and linkage to profitable domestic and international markets.
PROSHAR is preventing and treating child malnutrition by expanding integrated clinical health services and providing nutritional supplementation for children under two years of age and pregnant and/or breastfeeding mothers. Providing education on good nutrition and fostering positive behavior change are both crucial for ensuring long-term improvements in health and community development.
To strengthen capacity and capability, PROSHAR staff is training local public and private organizations on effective emergency disaster response and risk management to ensure resiliency to shocks and increase the ability of communities to address the long-term impact of disasters. PROSHAR is also reinforcing the government of Bangladesh's efforts to mainstream disaster risk management into development efforts and address long-term trends, such as those associated with climate change.
The community outreach events include a resource fair staffed by PCI and local Bangladeshi organizations, offering information and education in the areas of agriculture, maternal and child health and nutrition, and disaster risk reduction. Program staff used an educational and cultural tool, relaying strategic messages through theme based song and drama, and Gomvira (a popular method based on dialogue between grandfather and grandson combined with folk song and dance). More events are planned this month in nearby districts.
"PCI is proud of the unprecedented success of the PROSHAR community resource fairs, and for the thousands of local residents that have improved lives as a result. The large attendance to these events is evidence that PCI and its local partners are well-respected and trusted by the local populations, and we look forward to a long legacy improving lives in Bangladesh," commented George Guimaraes, CEO of PCI.
PCI is a sub grantee of ACDI/VOCA's PROSHAR program made possible with the generous support of the American people through the U.S. Agency for International Development. The contents are the responsibility of PCI and do not necessarily reflect the view of USAID or the United States Government. To learn more about PCI and its impact of global health and humanitarian work, please visit http://www.PCIglobal.org or contact Annette Gregg, Senior Director of Marketing & Communications, at (858)279-9690.
##############################
Celebrating its 50th anniversary in 2011, PCI (Project Concern International) is an international health, development and humanitarian assistance organization, operating in 16 countries worldwide. PCI is dedicated to saving lives and building healthy communities around the globe, benefitting over 6.7 million people annually in Asia, Africa and the Americas. Funded by federal grants and private support, PCI's current annual budget is nearly $50 million and the organization has 600 employees worldwide. PCI's headquarters are located in San Diego, CA and also has an office in Washington, DC and a Seattle, WA representative.