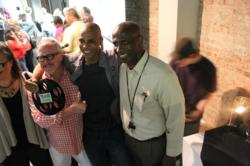 To win the $50,000 prize, these filmmakers have to shout about their films from every rooftop. It's going to be part Sundance, part Lollapalooza.
Shreveport, LA (PRWEB) August 15, 2012
In front of a live audience of 300 and online audience of more than 200 from across the U.S., Executive Director Gregory Kallenberg and Festival Director Chris Lyon announced the 20 finalists for the inaugural Louisiana Film Prize. The films will be shown at the The Louisiana Film Prize Festival Weekend (http://www.LAFilmPrize.com) October 5-7, 2012 in Shreveport, LA. The winner will take home a $50,000 cash grand prize, one of the world's largest cash prizes for a short film. The Louisiana Film Prize invites filmmakers from all over the world to create and present a short film under one condition – it must be shot in the Shreveport-Bossier area.
The grand prize winner will be chosen based on the votes of a panel of expert judges and the festival audience. Finalists are encouraged to heavily promote their film and enlist support from friends, family and the public to heighten their chances of winning. The complete list of filmmakers and their films is below.
"This is setting up to be an incredible festival weekend for the Louisiana Film Prize," said Gregory Kallenberg, founder of the Louisiana Film Prize. "To win the $50,000 prize, these filmmakers have to shout about their films from every rooftop. It's going to be part Sundance, part Lollapalooza."
This year's jury includes journalist/author Hank Stuever (Washington Post), journalist James Hibberd (Entertainment Weekly), Tara McPherson (USC School of Cinema), Steve Beckman (Cinetic), Brandon Oldenberg, (Academy Award Winning producer of the animated short "The Fantastic Flying Books of Mr. Morris Lessmore") and Alyssa Kantrow (Production Supervisor, Brad Pitt's upcoming "12 Years of Slavery"), with additional jurors to be announced.
"The national response to the Louisiana Film Prize has been pretty amazing," Kallenberg added. "It has been incredibly inspiring to see the amount of talent that went into all these films. Choosing the Top 20 out of the submissions was incredibly difficult, but we think we have a great group jockeying for the Grand Prize."
The Louisiana Film Prize received more than 80 submissions. The participating films utilized more than 650 people in cast and crew. Also, the participating films injected over $450,000 into the economy of Shreveport-Bossier through the payment of cast, crew, food, lodging and equipment rentals.
"The icing on the cake has been the residual effect of the Louisiana Film Prize," said Kallenberg. "This area woke up and found itself to be a viable indie film capital. People in the area really took part in this. They acted, they worked on set, and they made films. On top of that, the out-of-town filmmakers all seemed really impressed with pool of talent here and the welcoming, uber-friendly filmmaking environment. I believe that the Louisiana Film Prize has already accomplished some great things. The cool part is that we're just getting started. We still have a festival weekend to put on."
Visit http://www.lafilmprize.com to learn more about the Louisiana Film Prize contest and festival.
2012 LOUISIANA FILM PRIZE FINALISTS:
528 Hz (Jeremy Enis)
A deaf girl falls for a musician upon a random meeting at a bar. A drunken miscommunication nearly thwarts the relationship before it can begin.
The Adventures of Captain Oliver (Bryan and Claira McManus)
Captain Oliver is a friend like no other, complete with button eyes, a proper felt mustache, and five funky tentacles. He is the loyal sidekick and trusted shipmate of the lovely Anna Claire. These two are inseparable, through calm and rough seas- but all of this changes in the blink of a button. Tossed overboard, Captain Oliver and Anna Claire find themselves apart as the brave Captain goes on an unlikely adventure to far out places filled with exotic characters where his only hope is to go with the flow.
Biggo (Josh Smith)
Biggo is a six year old boy who was born with a pair of unusually oversized hands. Either teased or simply ignored by everyone at his school because of his abnormality, Biggo struggles to find his place. The pain of his solitude is magnified by the fact that it's Valentine's Day.
Devil Has My Ear (Jamie Ryan and Scott Brooks)
Lost in the landscape of his mind, Gabriel (Matthew JC) battles the demons of his past as the devil (Marc Colombo) shows him the monster he has become. His gambling addiction has forced deadly loan sharks (PJ Abbott and Kyle Kosier) to collect a debt that threatens Gabriel's life and family. To avoid losing everything he loves, Gabriel must overcome his ego and stand face-to-face with a world destroyed by his own hand.
Home Fires (Christy Ward)
Home Fires" is an action packed comedy. Erica Braun has retired from her super secret elite assassins military unit and has come home to the family pecan farm of her youth. During her return to civilian life she receives a prototype vacuum, the iQ Cleaning System, from an old Soviet double spy, but it seems Constantine hasn't quite worked out all the bugs. It's side-splitting action and edge-of-your-seat comedy as this man v machine thriller takes you through its paces! Pecans! Karate! Fire! Vacuums! You won't be able to look away from "Home Fires"!
I'm Sorry For… (Mindy Bledsoe)
Eddy lives a boring life where routine is everything. His life quickly changes when he finds his controlling wife, dead on the floor. He decides it's time to apologize to everyone for her wrongdoings, which brings his son, Joe, and daughter-in-law, Gina, into an uncomfortable position. Eddy's new freedom may be his undoing.
Killing Time (L. Elizabeth Powers)
What if the boss you always wished would drop dead, suddenly did? What if it was your fault? In this short dark comedy, three work friends: Neecey, Nick & Sam are faced with that very dilemma. When their boss, Mr. Keller suddenly dies, their office adversary, Dean, is out to frame them for murder unless they can find a way to stop him. Killing Time is a short film written and directed by L. Elizabeth Powers and produced by Teri Kerr. It stars Taylor Coffman as Neecey, Bradley Silman as Nick, Ariane Perideaux as Sam, Paul Belcher as Mr. Keller and Dusty Emerson as Dean. It also features Kaci Ledbetter and Kara Rainer with appearances by Clint McCommon, Andie Knowles, Thomas Reich and Hugh Kerr.
Lay Me in the River (Ashley Bonn and Allison Morton)
Scarlett Calhoun has lived under the iron fist of her father's religious extremism since the death of her mother, Danielle. In her small Southern town, Preacher Lyle Calhoun's word is law and it focuses on preventing the sins of women. Until now, Scarlett has never questioned her father's word, but his new interest in her best friend, Rebecca, has her worried. As Scarlett watches the darkness within her father start to leak out, she must find her independence and strength to stand up the only family that remains in her life.
The Legend of Luther Anderson (Thomas Woodruff, Noah Scruggs, Chris Armand)
Throughout history there have been many stories of legendary men and events from the old west. Most are well known, but there are a few that have fallen through the cracks of time. Legend speaks of such events that folks say are just a myth or absolute doo doo. Believers say the one responsible is a man who could not be killed, and no woman could satisfy his lustful appetite. This is the Legend of Luther Anderson.
Light (Cole Prine and Ethan Coop)
A man discovers a strange object that soon consumes his focus, his desire, his life.
A Man of Limited Emotional Means (Alejandra Valera)
How much does your upbringing affect who you will become as a parent? Nine-year-old Bell adores his unreliable father, Jackson. When his parents divorce, Bell must become Jackson's friend, cohort and at times caregiver -- often with disappointing results. Set in the late 1970s in Shreveport-Bossier City, Louisiana A MAN OF LIMITED EMOTIONAL MEANS examines family relationships and all of their complexities.
Melody of Choice (Vera Mulyani)
The Melody of Choice is a fiction for children about the hope of a child to realize his dream. Teo is a genius kid who can hear the sound we all cannot; the rain drop, dripping tears, crawling dust, pecking insects, his hair growing! He composes them into a melody in his mind. But Teo struggles as a can collector, too poor to go to school, his father is ill, his brother forces him to join the drug dealer. Teo meets Jonathan Batiste, a Jazz musician, and is inspired to transform his thousands of cans into a giant music instrument on an isolated island where all voices of nature become the melody we can hear from across the lake.
A Most Complex Form of Ventriloquism (Ashley Brett Chipman)
The year is 1923; the moon has fallen out of the sky and crashed into the ocean, instantly killing half the Earth's population and knocking the planet off its orbit. Our world becomes a rock hurtling uncontrollably through the darkness on a doomed trajectory to smash itself to tiny atoms within the next few years. As the human race stares down its collective death sentence, scores of competing psychic mediums rise to power as they attempt to save the world's future. A Most Complex Form of Ventriloquism follows two rival mediums involved in a love triangle with a ghost, and Houdini, as he stages a competition to debunk and ruin the hordes of charlatan mediums preying upon the weak and vulnerable, while secretly hoping to find his dead mother through the search.
New Era (Zachary K Taylor and Erica Silverman)
When Era, a young girl from a small rural town, isn't spending her days taking care her elderly friend Helen, she daydreams about exploring the rest of the world. Era has an adventurous heart, but bills, her job and other expectations keep her from her ambitions. As the parallels between their lives unfold, Helen begins to share her life lessons, mistakes and deepest regrets, so that Era may live fearlessly.
Papillion (John Goddard)
Eugenie "Papillon" Theriault's world was music … before Ben Pinkerton arrived. The serene world of the opera company pianist is shattered when the handsome, charismatic opera singer, Ben Pinkerton notices the quiet pianist. She falls in love with Ben and, with their child Trouble, awaits his return from his itinerant schedule of singing in opera companies around the world. Papillon is a modern tale based on the original 1898 short story "Madame Butterfly" written by John Luther Long.
Secret Agent Jones Takes a Lover (Calvin O'Neal, Jr.)
After sharing some happy times together, Nick & Alice have hit a cross roads in their relationship. When it comes to dating each other, Nick is carefree and content. Alice on the other hand, feels its time to move on, and one night she finally decides to break up with Nick. Distraught and a little confused, Nick goes to his only source of hope: His dexterous, cartoon watching, slacker friend, Jones. For some reason he is the only one who can save Nick & Alice's relationship. Nick is determined to do what ever it takes to get Alice back. Jones' mysterious techniques and intuition gives Nick the tools he needs to get Alice back. But will Nick's journey to get his girlfriend back lead him down a path of reconciliation or will it answer more questions he never asked for?
Sock Monkey (Robert Montgomery)
For Chris it's just another night run to the laundromat down the street. Blank faces, lonely middle-aged women washing...dolls? One sock stuck in the back of the machine. Yep, just another night. Then Chris tried to take back the sock that is rightfully his, only to find someone (or something) else had already laid claim. Struggling over the seized stocking, Chris loses his grip. Confused, angry, and lower on clean socks than usual he climbs into the dryer to see where the sock could have ended up, Chris finds the dryer larger than expected. Much larger. Maybe he's fallen behind the machine? Or maybe, just maybe, he's not even in the laundromat any more. Now, pitted against the shadowy insidious forces bent on committing grand theft garment, Chris may pay the ultimate price to find the answer to one of Mankind's most troubling questions; Where do lost socks go?
Super Day (Christopher Wade)
Our hero is overworked and stressed out. There are no vacation days when your job is saving the world. There's also no lunch break. When our hero has to skip his lunch to change into his outfit so he can help a woman in need, his secret identity is revealed - and revealing! And when a precocious teenager snaps some naughty pictures of him, he must find a way to convince the kid not to sell his wardrobe malfunction to the tabloids.
This is a Microphone (Phillip Jordan Brooks)
The traditional idea of a crook is exploited and challenged in this intense drama that faces off a downtrodden ex-loan officer with the CEO of his former employer, Republic Bank and Trust, in an unflinching examination into the faults and failures that created the American mortgage crisis.
THE: Total Human Experience (Evan Falbaum)
What if you could record your life experiences? What you hear, what you see, what you smell, what you feel. What if you could take that information and share it with other people? You could experience virtually anything from the comfort of your own home. The Total Human Experience is the experience of your lifetime. It's a new social network where you can share and purchase other people's experiences. What would you share?