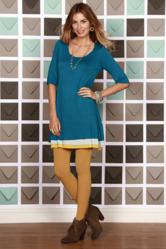 Salt Lake City, Utah (PRWEB) August 15, 2012
DownEast Basics, a high-style, low-price retailer that specializes in trendy fashions as well as modest clothing, has unveiled its Fall 2012 collection in time for cooler weather. With new styles for women, teens and girls, the DownEast brand remains a perennial favorite for its "boutique on a budget" philosophy that lets shoppers buy more. The brand is also running its first-ever Pinterest contest in honor of fall fashion.
"We're so excited for the cozy fall fashions that come with cooler weather," said Andrea Updike, DownEast's head clothing designer. "There's so much to choose from this fall, from bold stripes to hot new prints and colors – even '80s inspired styles. If it's on-trend, we have it! Our Fall 2012 collection is one of my favorites."
The DownEast Basics concept continues to be well-priced, wardrobe-building essentials combined with key new trends that can be easily layered and mixed. The versatility of DownEast's Fall 2012 collection makes it perfect for back to school, for the office or for wearing to fall activities, like football games.
Updike talks about some of the season's top trends in DownEast Basics' new fall line:
Color Blocking. "This popular look that took off in the spring and summer is created by placing blocks of solid color next to one another. Clothes, shoes, handbags and other accessories can all feature color-block designs. DownEast's take on this trend includes our On Set Tunic, Fall Lines Bag and Bow Tied Dress."
Stripes. "Stripes are here to stay! Thick, thin, chevron and mixed directions – they all add up to style success this fall. And remember that stripes won't widen you if they're on a slimming fit-and-flare cut. Some DownEast stripes to try include our Days of the Week Top, Lifeline Tank, Campus Sweater, Linear Cardi and Intersections Dress."
Tribal Prints. "Go global with tribal prints! The bold colors and geometric designs make a big statement. DownEast features them in our Last Stop Skirt and Coming Home Tunic."
Mini Floral Prints. "Modern silhouettes paired with vintage-inspired, mini floral prints are in high demand this season and have been seen on the red carpet, worn by best-dressed celebrities. DownEast's spin on this trend includes our Crabapple Dress and Stow Away Top."
'80s Inspiration. "'80s-inspired fashion is popping up everywhere – shoulder pads, dancewear-inspired silhouettes and dynamic geometric shapes! To try out this trend, start with accessories like enamel chain necklaces and geometric pendants. We suggest our Picket Necklace, Metal Plains Necklace and Two-Toned Necklace."
High-Low Hems. "Can't decide between short or long? Have it both ways! This varied-length trend is popular in fashion tops, skirts and dresses, and has been seen on the DKNY and J.Mendel runways. To try: DownEast's Foreward Tunic."
Neons & Plaids. "Go bold and bright or go home this season! Bright cold colors have carried through the spring and summer and are now appearing in fall and holiday fabrics and silhouettes. Mix and layer colors and prints for stunning style impact. To try: DownEast's Chevron Cardi, Sharp Pencil Skirt, Front Desk Top, Spectacle Vest and Bedford Skirt."
All DownEast styles mentioned are available now, or will be available soon, online at [http://www.downeastbasics.com or at your local DownEast store.
Enter the "Fall Back to Basics with DownEast Basics" Giveaway on Pinterest
Now through August 31, 2012, show DownEast your fall fashion Pinspirations on Pinterest and be entered to win a $500 shopping spree! For more information on how to enter, visit the DownEast Basics by Design blog.
About DownEast Basics
DownEast Basics (http://www.downeastbasics.com) offers high-design looks on a bargain basement budget for today's cost-conscious yet fashionable consumer. The DownEast Basics clothing line features smart layering pieces and wardrobe enhancing garments so you can embrace the American classic look with your own sense of style.
Shop for cute tops, womens sweaters, modest dresses and accessories at Downeastbasics.com.
The fast-growing retailer operates nationally with its Basics line via its online store in addition to 50 locations throughout the West including in Utah, Colorado, California, Idaho, Arizona, Washington, Nevada and Wyoming.
# # #