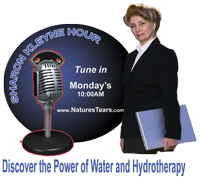 Grants Pass, OR (PRWEB) August 15, 2012
According to tower garden advocate Tracy Hurst, it is now possible to grow lush vegetables, using no soil and almost no water – in your own living room! The urban gardening technique is called "aeroponic gardening," "vertical gardening" or "tower gardening," and it enables just about anyone to grow their own food no matter where they live.
The system's continuous recycling of water and emphasis on home grown produce attracted the attention of water advocate and radio talk show host Sharon Kleyne. On June 4, 2012, Sharon Kleyne interviewed Tracy Hurst on Sharon Kleyne Hour Power of Water. Podcasts of the interview may be heard on WorldTalkRadio.com and Sharon Kleyne Hour.com.
According to Tracy Hurst, seeds are started in soil but are quickly transplanted to the "tower." The tower is four-feet high and consists of four stacked circular trays, each with five holes in the side, so each tower can accommodate 20 plants, which grow through the holes.
Water, to which plant nutrient had been added, is circulated in a closed system using a pump. The water drips down over the plant roots, is collected in a 20-gallon bowl at the base and is then recirculated to the top.
Unlike hydroponic gardening systems, in which plants roots are completely immersed in water, aeroponics enables better aeration of the roots and oxygenation of the water to produce more vigorous results. The system costs about $500 and includes pH testing strips and plant food.
According to Tracy Hurst, tower gardening was invented by a man named Tim Blank, a gardener at Epcot Center in Florida. She adds that tower garden plants grow very fast and that towers may be placed just about anywhere: In the living room, on the patio, in a high-rise apartment, in a greenhouse or in the yard. Some gardeners are so pleased with the results, they use several towers. The system is extremely educational for children, with less work than conventional gardens, a quicker payoff ,and year-round production (although it is recommended that produce be grow in-season).
Sharon Kleyne noted that children are more likely to eat vegetables that they've grown themselves.
Tomatoes grow especially well in tower gardens, as do green, leafy vegetables. According to http://www.towergarden.com, the system will grow anything but root vegetables, vines, bushes and trees (so radishes, carrots, onions, grapes, blueberries, apples and avocados are out).
Tracy Hurst pointed out that a tower garden at O'Hare Airport in Chicago supplies many of the airport's restaurants. The garden has 26 eight-foot towers.
The Sharon Kleyne Hour Power of Water is broadcast live on Mondays, 10 a.m., PST/PDT. The syndicated talk show is heard on Voice America/World Talk Radio, Green Talk Network and Apple iTunes. Go to http://www.SharonKleyneHour.com for written summaries and on-demand podcast replays.
Website: http://www.foodforyou.towergarden.com
© 2012 Bio-Logic Aqua Research