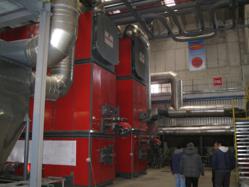 Wichita, Kansas (PRWEB) August 16, 2012
Alternative Energy Solutions International Inc. (AESI) and Canada Powerhouse, (the Technical Sales Division of Exclusive Boilers, Burners & Controls) (EBBC) announced today that they have established and are proceeding with an important agreement for representation throughout Western Canada. This partnership will leverage each company's strengths and bring the highest level of service and satisfaction to the Canadian biomass markets. (http://www.aesintl.net). (http://www.uniconfort.com, )
"Exclusive Boilers, Burners & Controls, (EBBC) through their technical sales division, Canada Powerhouse, has begun to market and support AESI, Inc. and Uniconfort, in British Columbia, Alberta, Saskatchewan, North West Territories and the Yukon. Uniconfort and AESI, Inc have over 5,000 installations operating worldwide, said David Daniels, president and CEO of AESI. "We are pleased to have the benefit of Canada Powerhouses' continued direction. Together, we will create an optimal sales and service model for the very important, emerging and growing biomass industry in Canada."
According to Dale Mazur, General Manager of EBBC, "AESI and Uniconfort are a game changer for the worlds CO2 and NOx emissions. Coupled or stand alone with our Co-generation capabilities, not only will energy centers realize benefits of reducing fuel consumption as well as emissions; the owners significantly reduce operating costs. Business and the environment wins. EBBC receives a considerable amount of requests for District Heating, Cogeneration, and emission reductions; we looked very hard at other technologies and realized that Uniconfort and AESI had a proven track record focused on very key areas often over looked. We further evaluated their business approach and were extremely pleased to discover that the technologies were not "locked" to other services. This allows EPC'S, engineering firms, and the customer to determine what level of involvement they prefer. No question that the company made the right decision to move forward with AESI and Uniconfort. "
For further information:
AESI, Inc.
Canada Powerhouse a division of Exclusive Boilers, Burners & Controls
David Daniels
President & CEO
(316) 201-4143
david(at)aesintl(dot)net
http://www.aesintl.net
Dale Mazur
General Manager (Western Canada)
(780) 380-0484
dale(at)canadapowerhouse(dot)com
http://www.canadapowerhouse.com
About AESI
About Alternative Energy Solutions International Inc.
AESI is the leading privately owned biomass-to-energy integrator in the United States, offering proven green-energy solutions and modular biomass gasification applications for commercial and industrial clients. Founded in 1996 with a primary focus on delivering modular, plug-and-play applications, AESI's systems originate from the 55-year-old Italian manufacturer, Uniconfort, of San Martino, Italy. AESI has evolved biomass energy to effectively reduce or remove its customers' dependence on traditional fossil fuel sources. AESI has successfully leveraged the decades of European experience into the U.S. market to offer turnkey delivery of reliable, high-performance systems from single to multi-system platforms without compromising quality. For more information, visit http://www.aesintl.net.
About Uniconfort
For over 50 years, Italian-based Uniconfort has operated in the sector of advanced thermotechnics and other technologies for converting energy from biomass sources such as agriculture, wood waste, and from the forest and pellet industries. http://www.uniconfort.com
About Canada Powerhouse and Exclusive Boilers, Burners & Controls
Exclusive Boilers is a privately held company, established in British Columbia, Canada in 2004, (EBBC). Through their technical sales division, Canada Powerhouse, providing equipment in BC, AB, SK, NWT and the Yukon, has become one of Western Canada's leading manufacturer's representatives for providing a complete offering of best-of-class equipment and services for commercial, institutional, industrial and infrastructure markets.
Canada Powerhouse's product groups include: Cogeneration, CHP (Combined Heat & Power), Biomass, Industrial Boilers, Chimney and Duct Systems, Waste Heat Recovery, Water Treatment Equipment, Custom Vessel Fabrication, Heat Exchangers, and Instrumentation, while providing rental solutions for boilers, steam/diesel/natural gas turbines, and generators. For more information, visit http://www.canadapowerhouse.com