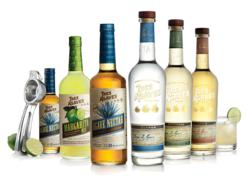 St. Helena, CA (PRWEB) August 20, 2012
Trinchero Family Estates (TFE) has announced the addition of Tres Agaves Tequilas and cocktail mixes to its portfolio. Tres Agaves is dedicated to offering world class Tequilas and mixes including Blanco, Reposado and Añejo Tequilas; the original cocktail-ready agave nectar; the only USDA certified organic Margarita mix; and the first Bloody Maria mix, created specifically for Tequila.
Tres Agaves was founded in 2005 when restaurateurs Eric Rubin and Barry Augus created Tres Agaves Mexican Kitchen & Tequila Lounge and grew it into the #1 seller of premium Tequila in the U.S. by perfecting its Uno-Dos-TRES Margarita recipe, consisting of agave nectar, fresh lime juice and 100% agave Tequila. In 2008 Rubin and Augus transitioned out of the restaurant business to introduce Tres Agaves' own line of Tequilas and mixers.
"Tres Agaves is a natural fit for Trinchero Family Estates as we continue to expand our wine and spirits portfolio. One of the reasons our industry continues to grow is the diversity of products we offer to consumers. This will provide a one stop solution for America's best selling cocktail – the Margarita," commented Bob Torkelson, President and COO of TFE.
Tres Agaves Tequila has a unique Jalisco, Mexico; lowlands taste profile made from 100% Blue Weber agaves matured an average of 9 years. It is produced and estate-bottled by one of Mexico's most respected Tequila families at their boutique distillery, El Llano, which began production in 1900 and still uses volcanic spring-water from the nearby Tequila Volcano. The Master Distiller is the town's former mayor and a fifth generation artisan who specializes in small batch, handcrafted Tequila.
Tres Agaves co-founder Barry Augus noted, "Tres Agaves partnered with one of the last independent, family-owned distilleries in Jalisco, Mexico in order to produce one of the world's finest Tequilas. We are very excited to now become part of Trinchero Family Estates – also a family-owned and operated company. With their extensive resources and distribution, we are confident that Trinchero Family Estates will allow Tres Agaves to deliver the absolute best Margarita in the world to even more consumers."
The following products are now available with limited distribution throughout the US:
TEQUILA
Tres Agaves Blanco:
Tres Agaves Blanco is pure and unaged, and travels straight from the still to the bottle. It is the purest expression of the Master Distiller's craft, capturing the clean, herbaceous taste of pure agave.
Tres Agaves Reposado:
Tres Agaves Reposado is aged in Woodford Reserve, Jack Daniels and Heaven Hill barrels for 6-9 months, achieving a smooth, symbiotic balance of oak and agave
Tres Agaves Añejo:
Tres Agaves Añejo matures primarily in Woodford Reserve oak barrels for 18 months, creating truly singular Tequila. Winner of the 2010 Chairman's Trophy at the inaugural Ultimate Spirits Challenge, Tres Agaves Añejo holds the highest score on record—97/100.
NON-ALCOHOLIC MIXERS
Organic Margarita Mix:
Tres Agaves Margarita Mix relies on authentic, real ingredients: organic agave, organic lime juice, and pure filtered water, providing the right balance of sweet and sour to perfectly complement Tequila's unique taste profile.

USDA Certified Organic*
No High Fructose Corn Syrup
Low Glycemic Index
Only 68 Calories Per Serving
Cocktail-Ready Agave Nectar:
Tres Agaves all-natural agave nectar is the original and only cocktail-ready agave sweetener created specifically to make Margaritas and other cocktails. Balanced with purified water, it measures, pours and dissolves easily with a consistent sweetness level.

Contains No High Fructose Corn Syrup
Low Glycemic Index
Only 60 Calories Per Serving
Organic Bloody Maria Mix:
Launched in July 2012, Tres Agaves Bloody Maria Mix is the first Bloody-Mary style mix designed to be used with Tequila. Made with organic ingredients, the taste is fresh and natural - sweetened only with agave and low in calories.

USDA Certified Organic*
Contains No High Fructose Corn Syrup
Only 30 Calories Per Serving
*Tres Agaves Margarita Mix & Tres Agaves Bloody Maria Mix have both received USDA organic certification from Oregon Tilth.
For additional information or for high-res images of Trinchero Family Estates' Tres Agaves products, contact the TFE PR team at nfeeley@tfewines.com or cabazia@tfewines.com.
Trinchero Family Estates ("TFE") is wholly owned and operated by the Trinchero family, Napa Valley vintners since 1948. The company produces more than 28 brands including Sutter Home, Trinchero Napa Valley, Main Street, Napa Cellars, Terra d'Oro, Montevina, Trinity Oaks, Folie à Deux, Ménage à Trois, and the number one alcohol-removed wine, Fre. TFE markets and sells Joel Gott Wines; Bandit, Newman's Own, and The SHOW. TFE import portfolio includes Angove Wines from Australia; Doña Paula wines from Argentina; Carmen Wines from Chile; Shatter Wines from France; and CRUZ Tequila from Mexico. Visit http://www.tfewines.com to learn more.
Contacts:
Nora Feeley, Public Relations Director
707-963-5928 ext. 2160 / Cell 707-889-7692
nfeeley(at)tfewines(dot)com
Carissa Abazia, Public Relations Specialist
707-963-5928 ext. 2610 / Cell 707-321-7019
cabazia(at)tfewines(dot)com