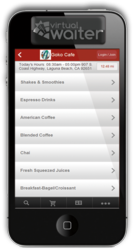 Imagine getting an entire ordering/reservation system simply for having a merchant account.
Irvine, California (PRWEB) August 17, 2012
The restaurant industry is changing thanks to new offerings such as Virtual Waiter®. Imagine getting an entire ordering/reservation system simply for having a merchant account. In other words, sign up with Group ISO and receive all of the following FREE (if eligible; call to see if you qualify).

FREE – 20" Touch Screen POS System with cash drawer, POS printer and integrated encrypted credit card reader

FREE – Website
FREE – Online ordering from (PC, MAC, Smartphone, Virtual Waiter® App on the Apple and Android store.
FREE – Table Side Ordering
FREE – Reservation System
FREE – Backend tool accessible 24 hours a day. Change your menu, print reports, manage reservations; from anywhere an internet connection is available.
FREE – 24 Hour Support
Here's how it works
Virtual Waiter® has several options for online ordering for restaurants. The order can be placed through an app (iPhone and Android), tablet, or on the restaurant's website. If a restaurant does not have its own website they can easily create their own domain on the Virtual Waiter® website. Guests can choose to pay on their phone, through the website, or in person with cash or credit card.
When placed, orders come directly to the printer. The restaurant credit card processing is 100% secure and is handled by Group ISO. Reservations come straight to the host system upon placed. If requested, they can be integrated with most of POS systems currently available.
About the Company
Virtual Waiter® is an application that enables users to securely order food for take-out, delivery, and dine-in. Orders can be placed through the Virtual Waiter® POS, online, on a mobile device, or on a tablet right in the restaurant. As a bonus value-added feature, Virtual Waiter® also offers online reservations.
Group ISO is a merchant service provider that helps businesses grow by providing a full range of top-of-the-line merchant account. Group ISO offerings include credit card processing services and merchant account solutions that businesses to accept payments through terminals, as well as credit card processing software.