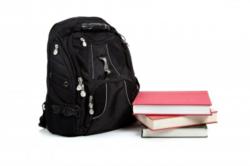 Los Angeles, California (PRWEB) August 15, 2012
It's last call for No More Poverty's Back-to-School promotion. Organization co-founders, brothers Michael Omidi and Julian Omidi, are eager to aid five select students in their educational endeavors. The money can be used for books, tuition, and other education expenses. To be eligible for selection, submit a statement of 500 words or less about how the funds will help educational pursuits and why education is important. Enter by sending a message on No More Poverty's Facebook page, and be sure to do it by end of day tomorrow -- Wednesday, August 15.
"Five scholars. Five hundred dollars. For 500 words or less on Facebook. It's just that easy," says Julian Omidi, co-founder of No More Poverty. "My brother Michael and I founded No More Poverty to help charities who are addressing poverty issues around the world. We believe education is a powerful means of alleviating poverty, so we're happy to support those who are motivated to learn and broaden their horizons."
One more time – entries are due by end of day Wednesday, August 15th and should be made through the No More Poverty Facebook page. Please be sure to 'Like' on the Facebook page.
No More Poverty (nmp.org) is a not-for-profit charity organization (with a pending 501c3 application) founded by brothers Michael Omidi, M.D. and Julian Omidi. The organization seeks to end poverty at home and abroad by supporting the efforts of like-minded charities and agencies. Current efforts are focused on increasing awareness of and donations to charities already doing great work to address poverty and its staggering effects throughout the world. The plan is to soon expand our activities to include fostering business development and job creation in disenfranchised areas.
Join us in the fight for No More Poverty. Suggestions for worthy partners in the fight for No More Poverty are welcome. No More Poverty does not accept monetary support, but instead encourages direct donations to the charities featured on nmp.org. For more information, please visit Facebook/nmp.org or nmp.org.