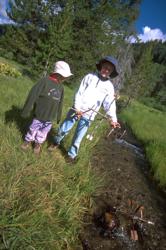 With family visits to national parks declining, some worry that the time-honored traditions will wash away like the waterwheels of Lassen Volcanic National Park.
Mineral, Calif. (PRWEB) August 16, 2012
For generations, children visiting Drakesbad Guest Ranch in Lassen Volcanic National Park have built small waterwheels out of twigs and sticks and placed them in Hot Springs Creek, to spin until time and nature would wash them away. With family visits to national parks declining, some now worry that this time-honored tradition will eventually wash away, as well.
Artistic and fascinating, yet functionless other than to teach a child that you don't need World of Warcraft or a thrill ride to be entertained, the Waterwheels of the Warner Valley near Drakesbad are anachronistic reminders of childhood vacations spent with simpler diversions.
San Francisco Architect Bill Diefenbach said he helped his son, Beck, build his first waterwheel when Beck was five, "then he made them on his own for many years." That was 27 years ago.
"We make one every year," from found materials, Diefenbach said, as have friends they've met at Drakesbad. Their aim is to craft a waterwheel that works, is sturdy and yet looks as natural as possible. Elements of a waterwheel include two forked sticks set into the creek, an axel (routed so that it spins in place on the forked sticks), and a wheel made of spokes attached to the axel, with paddles at the end of each spoke to touch the moving water. Twine is used to tie elements of the waterwheel together.
Marguerite Baker's family has visited Drakesbad Guest Ranch through four generations. They come from North Hollywood, Sacramento, Redding, North Las Vegas, Redway, Rio Linda and Quincy. The Baker family tradition of making waterwheels began after they purchased a kit in the ranch store. "It seemed like a fun family activity. Later, we got more clever and actually prepared our own materials instead of using the kits."
Diefenbach credits building the waterwheels as helping teach his children to "plan their work, design creatively and follow through." He takes such pride in his family's waterwheels that each spring he asks the ranch manager to report whether they've made it through winter, claiming, "all the others were always long since gone, of course." Diefenbach said the manager once joked that his wheel, "had turned so fast all winter that it created intense heat which melted the 10 foot snow drifts all around!"
Diefenbach describes the making of the waterwheels as "a great tradition that is always discussed throughout the year. We talk about improvement possibilities and boast about our past accomplishments." They even hold an official timing of each wheel, counting the number of revolutions in a minute… the record being 94.
Making waterwheels is a family activity for the Bakers, "Doing it together was a lot of the fun of it, including finding and selecting materials, deciding where to place them in the flowing creek, getting wet, having things fail and then repairing them or placing them in another location, and checking on them throughout our week's stay." Baker said, "I think it taught them (their children) to play with what the environment provided, that family cooperation can produce something enjoyable for all, and they also learned elementary science and engineering principles."
Building waterwheels, then testing them in the creek is one of many natural diversions for families to experience in Lassen Volcanic National Park. From Drakesbad Guest Ranch are easy family hikes or horseback rides to a boiling lake, bubbling mudpots, hissing fumeroles and other natural wonders.
However, several recent surveys indicate that youth are not experiencing such outdoor adventures as often as their parents or grandparents did at their age. The average age of a visitor to Minnesota's Boundary Waters Canoe Area was 26 in 1969 and was 45 in 2007, according to the U.S. Forest Service. The average age of out of state visitors to Glacier and Yellowstone national parks in 2011 was 54, according to the University of Montana and at Death Valley National Park, 49% of spring visitors in 2010 were between 46 and 65 years old.
Recently, John Koeberer, the concession operator at Lassen Volcanic National Park, observed that each year fewer families return to Drakesbad Guest Ranch, now leaving cabins unsold. To Koeberer, this has been an unexpected and disheartening change, considering that it has been the tradition of generations of families to vacation at Drakesbad. They returned with such annual consistency that it was difficult to obtain reservations in summer, though that's no longer so.
"It's fulfilling to see extended families of grandparents, parents and kids gathering to enjoy mealtime together, then planning their day's hikes to the park's hydrothermal wonders or working together to build something as simple, innocent, and yet so memorable to kids as a waterwheel," said Koeberer, "Though, with fewer kids being given these life afirming experiences, I wonder whether someday in the future, we'll see the last waterwheel spinning in the Warner Valley."
More about Lassen Volcanic National Park is found at http://www.nps.gov/lavo and about Drakesbad Guest Ranch at http://www.drakesbad.com.