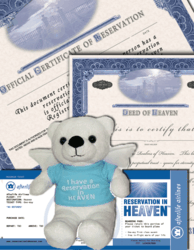 We have seen tremendous interest in these unique Reservation In Heaven and Reservation In Hell gifts...
New York, NY (PRWEB) August 15, 2012
Final Reservations LLC, a unique novelty and specialty gift company has announced the launch of their new, interactive websites http://www.ReservationInHeaven.com and http://www.ReservationInHell.com. The redesigned websites include gift recommendations as well as a secure checkout process making the gift giving of a Reservation an easy and entertaining activity.
"We have seen tremendous interest in these unique gifts, and felt it was a good time to redesign our sites to give more of a customer friendly feel and ease of use," states Alan Charles, founder of Final Reservations. He continues, "I developed this idea in 2004 and launched it in 2005. We saw great opportunity and thought trade marking this unique idea was vital to creating and growing this original brand; something that people have not heard too much of until recent. We even added plush keepsake toys to accompany the reservations and will be adding additional associated products to add to the gifting options. We are essentially creating a complete brand with a loyal culture as this becomes more and more viral."
ReservationInHeaven.com is a gift of love and peace for special people on anyone's gift list. A Reservation in Heaven™ package is a unique way to wish someone well, or say congratulations, thank you or good luck, and is suitable for individuals as well as charitable organizations, and is very popular with pet owners that consider their pets to be family.
ReservationInHell.com is a gift that allows you to "get even," or show a playful naughty side. Anyone who needs a good laugh or a life lesson can use a Reservation In Hell™.
Recipients of a Reservation in Heaven Package or a Reservation in Hell Package will receive a Travel Portfolio with a personalized welcome letter stating who is sending the reservation gift, a one-way ticket to Heaven or Hell depending on the choice of gift, a color parchment reservation certificate, a deed to his or her eternal place in heaven or Hell, and a special Guide to Living in Heaven or Hell, with pertinent facts needed to prepare someone for eternal life in Heaven, or purgatory in Hell.
About Final Reservations, LLC. (ReservationInHeaven.com & ReservationInHell.com)
Final Reservations is located in NYC and sells unique, novelty and specialty gifts throughout North America. Developed in 2004, ReservationInHeaven.com was launched in 2005, followed by ReservationInHell.com in 2006.
Reservation In Heaven and Reservation In Hell are registered trademarks of Final Reservations, LLC.
Final Reservations may be contacted at 1-888-432-8363, or online at http://www.ReservationInHeaven.com or http://www.ReservationInHell.com.