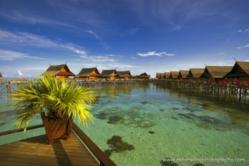 Our staff has personally visited each of the resorts, so we recommend them with confidence.
Malaysia (PRWEB) August 16, 2012
Asia Diving Vacation, a licensed tour company that coordinates ocean resort and dive packages to Asia's best dive sites, has developed a website, AsiaDivingVacation.com, to help divers and their families plan trips to the Sipadan Island area. In the Celebes Sea near Semporna, Malaysia, the Sipadan Island has been included on Scuba Diving Magazine's Gold List and is widely considered one of the best scuba spots in the world.
"Sipadan is a paradise for divers, because the area's diversity of marine life is spectacular, with more than 3,000 species of fish and hundreds of coral species," said Jacob Mojiwat, founder of Asia Diving Vacation. "At AsiaDivingVacation.com our staff – all experienced divers – have compiled valuable information to help visitors plan an unforgettable dive vacation."
AsiaDivingVacation.com provides detailed information about the 12 dive sites around the island as well as the six resorts that transport divers to the Sipadan Island area. The resorts vary in price and offer a variety of accommodations, including bungalows, chalets, rooms, suites and a former floating oil rig that has been converted into a dive resort.
"Our staff has personally visited each of the resorts, so we recommend them with confidence," Mojiwat said.
He added that Asian Diving Vacation has compiled the resort information on the website to help divers and their families choose the resort best suited to their tastes and needs. Some of the resorts are recommended for families with young children. Some offer group discounts. Others cater more to single travelers. The site also lists special offers.
A critical consideration covered by AsiaDivingVacation.com is the daily number of diving permits allocated to each resort – based on resort size – by Sabah Parks, the government authority responsible for protecting reefs and marine life.
For each resort, Asia Diving Vacation recommends a minimum length of stay to assure divers will be able to obtain a dive permit during their visit. The recommended length of stay varies based on each resort's allocation. The resorts apply for the permits on their guests' behalf.
To begin booking a reservation, AsiaDivingVacation.com visitors complete a simple online form to check the availability of their chosen resort. Mojiwat said that the best time to visit Sipadan Island is during the dry season, usually March to October.
About Asia Diving Vacation
Since 2005, Asia Diving Vacation has been coordinating resort and dive packages for individuals, families and groups in the Coral Triangle region, home to 75 percent of the world's known marine species. Asia Diving Vacation's staff of experienced divers has visited all of the recommended resorts on the company's website, AsiaDivingVacation.com. The company is fully owned and operated by Duis Dive, which is licensed under the Ministry of Tourism of Malaysia.