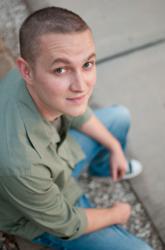 In a decade which has exposed more than one and a half million Americans to combat conditions, it seems as though this book could not have come at a better time.
St. Petersburg, FL (PRWEB) August 16, 2012
Bryan A. Wood is a quiet and unassuming police detective who works to keep the streets of St. Petersburg, FL safe for its citizens. In 2003, however, Wood fought another battle in a distant land halfway around the world, and in many ways, that battle has never ended. Wood has beautifully documented this battle in his gripping memoir "Unspoken Abandonment: Sometimes the hardest part of going to war is coming home."
Wood's story, which has been gaining fans and is now flirting with several best-seller lists, is based on the journal he kept while serving with the 747th Military Police Company and Third Special Forces Group in Eastern Afghanistan. The first half of the story takes the reader into the heart of Afghanistan, and it offers a front row view to this conflict, as seen by its warriors each and every day. However, "Unspoken Abandonment" is not your typical graphic war novel; instead, it is written to give the reader insight without being shocking or disturbing. The story then continues with Wood's homecoming and chronicles the struggles Wood faced in conquering the emotions and pain of America's most modern war. Overall, it is the inspirational story of a soldier seeking peace and redemption in an uncertain world. Be warned by more than one reviewer: "have a lot of tissues ready."
Wood says his reason for writing this book, and exposing his life so intimately, is so that others can understand. Wood said, "Too many people look at soldiers coming home and think everything is fine. A soldier may not have been injured, may have no outward signs of emotional trauma, and may appear just perfect, but on the inside it can be quite a different story. We are exposed to things that most people could never imagine, and then we are supposed to come home and forget about them. Unfortunately, it just doesn't work that way."
In a decade which has exposed more than one and a half million Americans to combat conditions, it seems as though this book could not have come at a better time. Military suicides are skyrocketing, and many of America's bravest men and women are left dealing with the emotional scars of combat on their own. "So many families just watch in anguish as their soldier comes home and struggles through this," explains Wood. "This book drives the message home: do something, anything, to reach out to them. Don't take 'no' for an answer, and make sure they get the help they need. Help is there, and life can get better - you just need to go and get it."
Wood recently received an email from a veteran who credited Wood's story with motivating him to seek help and saving his own life. Wood said, "That one email alone made this whole thing worth it. Even if I never accomplish anything else in my life, that message gave me purpose and meaning."
With a five-star rating on nearly every website and dozens of powerful reviews, it's obvious that fans are unanimous: "Unspoken Abandonment" is something special. What is surprising, however, is how readers who have no combat experience whatsoever are relating to Wood's search for peace in their own trials and tribulations. Wood explained, "I've had breast cancer survivors, rape victims, police officers, and so many other non-veterans contact me saying that they can identify with my story so strongly in their own daily struggles. That just blows me away."
Being described as part war story, part love story, and entirely entertaining and inspiring, "Unspoken Abandonment" is going to change the way any reader looks at life. Without going so far as to need a spoiler alert, this can be said: Wood's journey from the violence of Afghanistan to finding his own peace is completely heartwarming and life changing. Any reader will laugh, will cry, and will never again be able to look at a black backpack without forming a tear, but in the end they all agree: "Unspoken Abandonment" is a winner. Available now in paperback and Kindle from Amazon and other online retailers. To learn more about Bryan A. Wood, visit: http://www.BryanWoodBooks.com