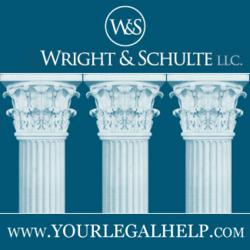 If you or someone you love were injured by a failing DePuy ASR metal-on-metal hip replacement device, please visit www.yourlegalhelp.com, or call toll-FREE 1-800-399-0795
Dayton, OH (PRWEB) August 15, 2012
The national law firm of Wright & Schulte LLC, which represents the victims of defective medical devices, has filed a DePuy Orthopaedics' ASR hip replacement lawsuit on behalf of an Ohio woman who was forced to undergo revision surgery less than two years after receiving DePuy Orthopaedics' ASR hip replacement device in her right hip. The lawsuit, which was filed on August 8, 2012, in the DePuy Orthopaedics ASR Hip Replacement Products Liability Litigation (MDL 2197) currently underway in U.S. District Court, Northern District of Ohio, alleges the health problems suffered by the Plaintiff are the result of elevated cobalt and chromium levels in her blood caused by the metal-on-metal hip replacement device. (Case: 1:12-dp-22366-DAK)
The DePuy ASR hip implant is a metal-on-metal hip replacement device, a class of hip implants that have been associated with a high rate of complications, including implant loosening, metal poisoning, inflammation, stiffness, impaired mobility, bone and tissue damage, the development of pseudotumors, and debilitating pain. In August 2010, DePuy Orthopaedics, a division of Johnson & Johnson, issued a worldwide recall for the ASR hip replacement devices, after data indicated that more than 12 percent of the devices failed within five years. Some 4,200 lawsuits have since been filed against DePuy and Johnson & Johnson by recipients of the ASR hip implant device in the Northern District of Ohio. Last month, the Honorable Judge David A. Katz announced that the first bellwether trial in the Ohio litigation will begin on May 6, 2013, and the second will follow on July, 8, 2013.
[http://www.ohnd.uscourts.gov/assets/Clerks_Office_and_Court_Records/MDL/2197/CMO-14.pdf
The Plaintiff in this latest lawsuit filed by Wright & Schulte LLC was implanted with a DePuy ASR hip replacement in her right hip in January 2007, and had the implant removed on November 18, 2008. The lawsuit alleges that as a result of her implantation with the ASR hip replacement, the Plaintiff has suffered personal and economic injuries, including kidney failure, constant pain and suffering, infection, painful rehabilitation, hip aspiration, extended hospitalization, and overall loss of her quality of life. The lawsuit asserts the Plaintiff could not have known that she was injured by excessive levels of chromium and cobalt until after the date she had her blood drawn and she was advised of the results of her blood work. The lawsuit further alleges the Plaintiff could not have known that injuries she suffered were a result of a defect in the ASR hip implant until after the device was recalled and she became aware of that recall.
It is estimated that some 500,000 people in the U.S. have been implanted with metal-on-metal hip replacement devices over the past decade. According to a report from The New York Times, the U.S. Food & Drug Administration (FDA) allowed metal-on-metal hip implants, including the DePuy ASR hip replacement device, to come to market without human testing. Data now indicates that all-metal hip implants are more likely to fail than devices made from other materials. In May 2011 the FDA ordered five producers of metal-on-metal hips to undertake studies to assess the safety of metal-on-metal hip implants. Last month, an FDA advisory panel recommended that patients with metal-on-metal hip implants should be regularly monitored via imaging tests and blood screening to ensure that the devices are not failing or shedding dangerous levels of metal ions.
[nytimes.com/2012/06/27/health/replacement-hips-focus-of-fda-hearing.html?_r=1]
About Wright & Schulte LLC
Wright & Schulte LLC, a leading personal injury firm, is dedicated to the belief that America's legal system should work for the people. Every day, the attorneys of Wright & Schulte LLC stand up for the rights of people who have been injured or wronged, and fight tirelessly to ensure that even the world's most powerful corporations take responsibility for their actions. If you're looking for a law firm that will guarantee the aggressive and personal representation you deserve, please do not hesitate to contact Wright & Schulte LLC today. Free case evaluations are available through http://www.yourlegalhelp.com, or call 1-800-399-0795.
Contact:
Wright & Schulte LLC
812 East National Road
Vandalia, Ohio 45377
1-800-399-0795