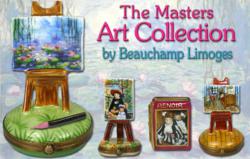 The Masters Art Limoges Box Collection captures the beauty and technique of the masters for all to enjoy. Each Limoges box in the collection is a masterpiece that any discriminating collector would be proud to add to their collection.
Los Angeles, California (PRWEB) August 15, 2012
LimogesBoxCollector.com is proud to announce the arrival of the exquisite Masters Series Art Collection Limoges boxes. The collection features famous paintings by world masters such as Monet, Renoir, Van Gogh, Klimt and Vermeer, painted in miniature form by French master artisans.
Each art piece in the new collection is hand-crafted of fine French porcelain and meticulously hand-painted with exquisite detailing. Inside each Limoges box is a painting or inscription and some boxes have a surprise porcelain accessory inside related to the art piece.
The works of French artists such as Monet and Renoir have captivated art lovers and enthusiasts around the world. Many of these works of art are easily recognized by all people. The highly collectible Masters Art Series Limoges collection captures the beauty and technique of the masters for all to enjoy.
The history of the Limoges porcelain goes back to the 1700s when kaolin, the main ingredient of the porcelain paste, was first discovered in Limoges along the river Vienne. The greatly labor-intensive process of creating a Limoges box has remained unchanged for more than 100 years. Only the technique of firing the porcelain has been updated by the use of gas or electric kilns. The age-honored lengthy process of crafting these porcelain masterpieces is what makes them so very attractive to collectors and gift-buyers today.
Limoges boxes are collected worldwide for their fine pure white porcelain as well as their elaborate hand-painted designs. LimogesBoxCollector.com is proud to offer the highest quality Limoges boxes made by the most select artists in Limoges, France. Collectors can find over one thousand styles of Limoges boxes in numerous themes. From Birthday boxes to Christmas, Gardening, Food and Wine, Perfume Chests, Travel and Sports, collectors and gift-buyers can find Limoges boxes to satisfy every taste and budget.
LimogesBoxCollector.com also offers a very large selection of retired, traditional and rare Limoges boxes. The website features the largest collection of the rare and retired Walt Disney character Limoges boxes by Artoria Limoges.
About LimogesBoxCollector.com: LimogesBoxCollector.com is an authorized dealer and direct importer of all French Limoges lines and is the exclusive distributor and retailer of the luxurious line of Beauchamp Limoges boxes. The company is owned by Grand Dezign, Inc. and has served the US and international community for over a decade. As a direct importer and one of the largest Limoges dealers in the US, LimogesBoxCollector.com offers thousands of Limoges boxes in hundreds of styles for every taste and budget. Excellent customer service, same-day shipping and competitive pricing, has made LimogesBoxCollector.com a favorite source for French porcelain Limoges boxes.