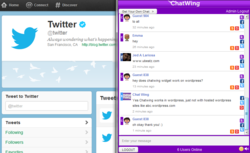 Washington, DC (PRWEB) August 16, 2012
People are now following different trends nowadays, according to many professional commentaries across the world. Chatwing, a company specializing in website chat, is fully aware how trends work. Working on this fact, the Chatwing dev team has introduced a universal chatbox to people who are following or setting trends in the Twitter community. The rise of micro-blogging has allowed various trends to scatter like wildfire in a short span of time. Chatwing's chat tool can provide a 'bridge' of communication that can help people discuss some noted trends.
One of the most commonly noted trends of today is social marketing. With the help of social media, many entrepreneurs were able to promote their products and services easily. Chatwing's free chat box also allows social media integration; with this option, people can use their Facebook and Twitter accounts to log in. Now, the blog or website owner can send invitations to users who logged in with their social media accounts. This act promotes blog interaction, ensuring high rate of visibility in the long run. The recent version of the Chatwing chat widget can also accommodate up to 1000 users, enhancing the potential of web communication by a significant percentage.
The moment Chatwing reached out to blogging sites, thousands of signups were generated on a day-to-day basis. These users came from famous blogging sites such as Livejournal,Wordpress, Typepad, and Windows Live Spaces. A large percentage of these bloggers are also using the Twitter login option of Chatwing's free chat box. To cope with such influx, Chatwing's developers are always observing and maintaining the chat platform.
Chatwing is not just about proper web communication—it is also about the creation of leverage in simple ways. According to Chatwing's developers, trends will come and go but Chatwing's free shout box will remain true to its service. In the coming months, the Chatwing team will commit to a strategic expansion that can reach thousands of people from blogging sites, online sectors, forums, social networking site creators, message boards, and gaming communities.
About Chatwing.com
Chatwing.com specializes in the new field of website chat. Over years, the Chatwing team has introduced live chat box for hundreds and thousands of blogs. The Chatwing application bridges people from many parts of the world, creating global synergy through the Internet. The shout box can be installed in just seconds, and it can be used for varying purposes such as leisure and Internet marketing. It also allows a user to customize the size, color, and name of the widget. Chatwing is 100% free for everyone.