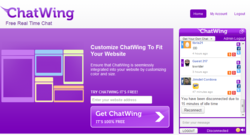 Albuquerque, NM (PRWEB) August 16, 2012
Online services have circulated easily with the help of Twitter community, reaching hundreds of people from many parts of the world. The Chatwing team has observed this common occurrence; with this, the company has launched a global chat box effective in creating waves of communication between interested people. This chat tool has simple but potential features such as social media integration, easy installation process, direct link URL, and a 1000-user capacity.
Chatwing's free chat box can help online service providers by connecting them to large groups of people. With a simple chat app installed in a blog or website, visitors can now leave their comments and suggestions in real-time. This is way easier compared to blog comments that may take some time to be dealt with. The Chatwing free chatbox can also be installed to any blog or website. People can use their Twitter accounts to login--an alternative to the Guest option. Now, Twitter users can invite more followers within a short time frame. Additionally, Chatwing has a direct link feature; users can just send shortlinks to their friends or peers. This is to initiate private group chats.
There are thousands of services that can be extended with the help of Twitter and Chatwing combined. Content writing is the most common of these services, emphasizing the fact that quality content is definitely needed nowadays. Online product orders will also become faster with the help of tweets and basic messages in the Chatwing chatbox. The Chatwing chatroom can also handle up to 1000 users, heightening the chance of better global connection.
To ensure that Chatwing's free chat widget will remain stable and free of technical glitches, the developers will continue introducing new backend upgrades. The Chatwing team is also planning various expansions in different online sectors, especially to those where web communication is crucial. Chatwing will also remain in the freemium business model for a long time.
About Chatwing.com
Chatwing.com specializes in the new field of website chat. Over years, the Chatwing team has introduced live chat widget for hundreds and thousands of blogs. The Chatwing application bridges people from many parts of the world, creating global synergy through the Internet. The shout box can be installed in just seconds, and it can be used for varying purposes such as leisure and Internet marketing. It also allows a user to customize the size, color, and name of the widget. Chatwing is 100% free for everyone.