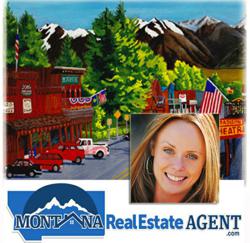 Ennis Montana Real Estate is in Strategic Buyers Market
Ennis, Montana (PRWEB) August 15, 2012
Ennis Montana real estate is uniquely located in southwestern Montana approximately 60 miles southwest of Bozeman and 70 miles northwest of West Yellowstone. Ennis is the backdrop to "Return to Lonesome Dove" which embodies an environment of what may be left of the real west. With a population of only 1000 people, Ennis is a discrete yet beautiful location for those who are fortunate to discover this hidden city that still offers large homes on large acreage for under $250K.
Kritanya Lambert, a licensed Montana real estate agent, says it's currently a buyers market with a diversified inventory that is undervalued. Today, the prices of this forgotten area has become affordable again as recession hit owners had to cut back and sell off their vacation properties. However, with more Americans having to cut back and vacation in America, Yellowstone Park visitors is hitting record numbers. Those visitors who take the side road up to Bozeman Montana from Yellowstone Park are discovering the town of Ennis and a community that captures a lifestyle rarely seen.
While Ennis Montana homes for sale include everything from basic one bedrooms to sprawling multi-million ranch estates near Wade Lake, Lambert says everyone has access to the views and outdoor lifestyle. Hiking, camping, mountain climbing, rodeos, cycling, kayaking and river floating that are common activities among residents and tourists. Homeowners also has the convenience of accessing the larger amenities of Bozeman or exploring the deeper regions of Yellowstone Park.
Lambert is advising buyers and investors to take advantage of the current inventory of Montana homes for sale in Ennis before the best deals of Spring and Summer are gone. With anticipated record sales as tourist season hits thru August and September she has recently acquired a toll free number for out-of-state buyers and can be reached at 1-888-699-0220. Current listing on Ennis homes and all southwest Montana real estate to include Bozeman and Big Sky homes for sale can be viewed online with images at http://www.MontanaRealEstateAgent.com