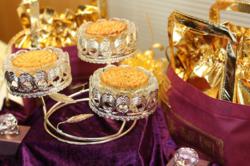 (PRWEB) August 15, 2012
In celebrating the 75th Anniversary of The Hong Kong Polytechnic University (PolyU), its Food Safety and Technology Research Centre has worked in collaboration with Wing Lai Yuen, a renowned Sichuan noodle restaurant in Hong Kong, to launch a "Mooncake Social Enterprise Project".
The project aims at nurturing students' entrepreneurial spirit and enhancing their service-learning experience. All net proceeds generated from the project will be donated to the Hong Kong Breast Cancer Foundation and used to support PolyU's teaching and research activities.
Veteran broadcaster Ms Candy Chea Shuk-mui has been invited by Wing Lai Yuen as its spokesperson. She said the objective of starting the mooncake social enterprise project is to promote the importance of eating healthy and this can be achieved by changing the eating habits. With this in mind, the mooncake contains no salted egg yolk and uses low-fat ingredients like trehalose, which is five times the price of sucrose used in usual mooncake.
PolyU Vice President (Institutional Advancement and Partnership) Professor Angelina Yuen said, "The collaboration between PolyU and Wing Lai Yuen has dual meaning. It not only celebrates the University's 75th Anniversary, but also enhances students' service-learning experience as PolyU will introduce a credit-bearing 'service-learning' requirement in the new four-year curriculum starting this September."
Mrs Sandra Mak, Vice Chairman of the Hong Kong Breast Cancer Foundation thanked Wing Lai Yuen for their kind support. She remarked that the initiative of this project to promote healthy diet shares a common vision of the Foundation. She called on the public to increase awareness of breast health and early detection of breast cancer while supporting the mooncake sale. Wing Lai Yuen will donate part of the proceeds to subsidise low income women to perform breast cancer screening.
Professor Wong Wing-tak, Head of PolyU's Department of Applied Biology and Chemical Technology also expressed his heartfelt thanks to Mrs Yeung Wong Siu-ling, owner of Wai Lai Yuen, for her ardent support to the Social Enterprise project. He believed the participating students have benefited greatly from her guidance and valuable advice during the course of preparation.
Three special mooncake flavours will be on offer. They are "Red jujube mooncake with walnuts", "Trehalose white lotus mooncake with pine nuts" and "Black sesame mooncake with walnuts". All are ideal for health-conscious customers. Sold at $128, each gift box would have two mooncakes with a choice of flavours.
Mooncake can be redeemed by presenting order receipt at the redemption counter set on the PolyU campus from 1 September. The mooncakes are also available for sale at Wing Lai Yuen, Hung Hom and Hong Kong Breast Cancer Foundation North Point Office.
For enquiries about ordering, please contact Mr Bai
Telephone : 3400 8702 Fax: 2364 9932.
E-mail : polyuwyl(at)connect(dot)polyu.hk
Website : http://myweb.polyu.edu.hk/~polyuwly
Address : Food Safety and Technology Research Centre, Applied Biology and Chemical Technology, Room Y8, 8/F Lee Shau Kee Building, PolyU campus
*****
Press contact: Ms Pang Wai-yin
Department of Applied Biology and Chemical Technology
Tel: (852) 3400 8600