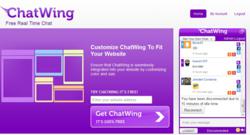 San Francisco, CA (PRWEB) August 15, 2012
Website administration is one of the most important aspects of Web development. Everyday, website administrators who are inclined to keeping their websites running always face a lot of challenges to find innovative ways and unique strategies to maintain the desired traffic into the website. One of the keys to attract visitors into a website is to cater to their needs. For a website which caters to diverse online visitors, a wide range of solutions to visitors' needs must be established. Chatwing's chat box provides the ease for website admins to respond to their visitors' demands.
Good content is indispensable to a good website. With the versatility of Chatwing's chatbox website admins are equipped to receive inputs from a wide variety of internet users thereby giving them better and relevant ideas of what information to publish in their websites. Chatwing's free live chat gives website administrators the opportunity to deliver prompt response to their visitors, as well. Website visitors, on the other hand, have the chance to give their views and opinions to website administrators thru Chatwing's free shout box. Website administrators who maintain their own websites, and those who maintain clients' sites, alike, can utilize Chatwing's chat box to bridge the communication gap between the website owner and visitors or customers. Specifically for business websites, this free chat software from Chatwing can help website admins meet clients' and customers' expectations, that is, good marketing strategy to satisfy the client and quick and real-time support for customer's satisfaction.
The Chatwing chatbox not only boosts the visibility of a website, it also provides web surfers the full advantage of real-time online communication experience. Chatwing's universal chat widget gives the option for visitors to log in with their Facebook or Twitter acoounts or to log in as guests. With this In effect, the Chatwing free chatbox can guarantee that the presence of the website over the internet will continuously increase. Currently, the Chatwing chatbox can accommodate 600 users simultaneously, and the development team is planning to upgrade it to a 1,000-user capacity.
Chatwing's chat software installation is proven to be a very easy and fast process as compared to other live chat applications in which the installation process is tedious requiring so many complicated steps and would require subscription or downloading fees. The Chatwing chat widget could be installed in just a few seconds, hence, empowering website administration in such a short time. It also allows a user to customize the size, color, and title of the widget which is a helpful technique for website theme synchronization.
About Chatwing.com
Chatwing.com specializes in the new field of website and blog chat. Over years, the Chatwing team has introduced free live chat for hundreds and thousands of blogs. Its versatility and high rate of connectivity has engrossed online communities to utilize Chatwing's chat software. The Chatwing application bridges people of different race and culture, from many parts of the world, promoting global collaboration and camaraderie through the Internet. Chatwing is 100% free for everyone.