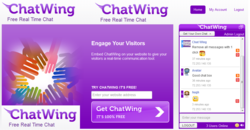 Miami, FL (PRWEB) August 15, 2012
This chat box is relevant to both bloggers and readers in a many ways. Bloggers can now address queries from their readers in real time. Before, they communicate through comments and messages, which would take a day or two before the reply can be sent to the readers. With this innovation, bloggers and readers can chat real time on the website itself.
This free shout box can be installed easily. Users just need to create an account in Chatwing.com by providing your email address and other relevant information. It would just take seconds to create an account, and now you are ready to take advantage of this free chatbox. Chatwing will provide an HTML code that can be embedded on your Blogspot website. Users can customize this chat widget's size, color and font to synchronize with the blog's layout.
Blogspot is a widely used website by different types of bloggers in the social media. It is now a fact that social media has been used not only for personal blogging but for online selling as well. With this Free live chat provided by Chatwing, readers can now ask the sellers real time. Both can log in using their Facebook and twitter account. They also have the option to log in as a guest.
If one Blogspot website is being followed by a thousand of readers, this free shout box can handle 1000+ online users. Despite the number, it is very manageable. The Admin of the Blogspot website can delete unnecessary messages real time, ban spammers, filters profane language, and block users who are not following the guidelines set by the Admin.
The emergence of this shout box greatly increased the online visibility of Blogspot users who already integrated the http://w ww.chatwing.com [Chat Box __title__ chat box] to their website. It has been observed that real time online interaction by users and readers widen their social reach greatly. People from different areas sharing the same interests can freely discuss their opinions and share relevant information, strengthening the bond between individuals from all over the world. Thus, generating synergy in the global online community through the internet.
There are now different types of bloggers, each of them maintaining their own niche. Bloggers can take advantage of this free shout box in reaching out to their readers by starting a light conversation depending on their chosen niche. Most especially travel bloggers, who are being followed by tourists who would want to visit the places they have featured in their blog. With the free live chat, readers can ask relevant information that would be helpful in completing their vacation.
Chatwing development team is continuing to do their research in enhancing their applications to provide wider coverage to different type of platforms. Soon, not only blogging sites will be catered by chatwing, but other social networking as well.
About Chatwing
Chatwing.com specializes in the new field of website and blog chat. Over years, the Chatwing team has introduced free live chat for hundreds and thousands of blogs. Its versatility and high rate of connectivity has engrossed online communities to utilize Chatwing's chat software. The Chatwing application bridges people of different race and culture, from many parts of the world, promoting global collaboration and camaraderie through the Internet. Chatwing is 100% free for everyone,