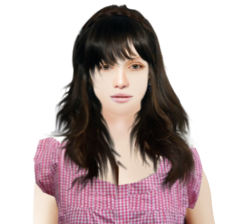 San Diego, CA (PRWEB) August 16, 2012
With the official launch of online social dating site iDreamofU (IDOU), women immediately accessed the site to bring their fantasies to reality. Now is the opportune time for men to join in the fun. Based on the idea that "Love at first sight is real," IDOU enables both men and women to create a near-lifelike image of the person they want to meet. IDOU software then matches the created image, along with responses to the traditional demographic and relationship questions, to members on the site. Created images can be shared outside of IDOU on social media sites Facebook, Twitter and Pinterest.
The IDOU launch attracted notable female bloggers to this new online social dating site. Gena Kaufman from Glamour's Sex & Love writes: Whoa: New Dating Website Basically Helps You Dream a Man Into Life! "If you're the type of girl who's been picturing your dream man your whole life, but hasn't found him in real life yet, have I got the website for you." In her msn living blog, Kristin Wong begins, Dating Site Lets You Build a Dream Man, Then Find Him. "Online dating has never been this customizable. After creating your ideal man, the site then matches you with real members who look similar to the avatar you've created. Think The Sims meetsMatch.com."
These blog writers have brought IDOU thousands of new accounts, the majority of them female. Karen Howard, President of KLEA, Inc., the owner of the IDOU brand concludes, "For the many good men out there, it's now Ladies' Night every night at IDOU".
About IDOU
IDOU provides an innovative, game-like, and first-in-class approach to online social dating for 18-to-50-year-olds in the United States. All services on IDOU are currently free. IDOU will focus on the use of its website and planned applications to create an online and social dating market niche.