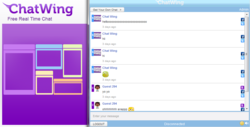 Seattle, WA (PRWEB) August 15, 2012
Seattle, WA - Weebly, one of the most flexible website creation applications online, and now being users by thousands of daily users. The Chatwing chat software has been integrated by several users to increase their visibility online. The Chatwing development team is contibually researching in making this application user-friendly and trendy.
Chatwing's chat software installation is just a piece of cake and can be completed in 20 seconds and does not require technical skills. You simply need to provide your email address and create a password, and you're good to go. You have the option to select from different types of chat box: pop-out window, embedded widget or through the direct url feature. Also, this chat widget can be customized based on the appearance of the users' website. Font, size and color can be changed based on the layout of the Weebly website, so that the chat box will be in sync with the website.
To increase online visibility, Chatwing's chatbox has been intergrated with the social media. Users can log in using their Facebook and twitter account. Users also have the option to login as guests. Chatwing is wholly dedicated in providing bloggers the ease to reach to their blogs' followers and visitors. Shoutbox replaces the traditional way of writing comments to articles published by the bloggers. Chatwing's free shoutbox gives a whole-new experience to Weebly users and followers. It makes reading online article more social.
Chatwing's free live chat can accommodate 1000+ users. This may sound so hard to manage, but Chatwing's dev team has come up with easy ways to manage and customize the chatbox. Admin has the capability to manage users using profane languages. Admin can also ban spammers. Not only that, admin of the account can delete live messages, turn off chat box, and even remove all messages. Finally, the admin can ban individual users who are not following the code of ethics provided by the website owner.
The Chatwing application improves the visibility of a blog or website by turning it into real time chat lounge where people can share information, their interests and passions, creating an active community through the internet. The Chatwing team is working real hard to make sure that their chat widget will continue to offer 100% satisfaction rate not just for Weebly users, but also to the blogs' followers and visitors as well. To do this, care and commitment is absolutely necessary.
About Chatwing.com
Chatwing.com has developed live chat software for websites. forums and blogs. It caters to different online communities ranging from travel blogs, tech savvies, online gamers to fashion bloggers. Everyone can create a customizable live chat widget in less than a minute. The ability to chat via social media accounts such as Facebook and Twitter enable Chatwing to offer a special and one of a kind real-time experience to all sites. Chatwing is 100% free and very easy to use.