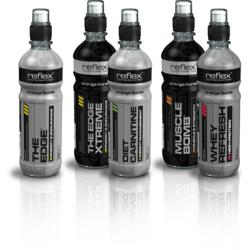 Muscle Bomb® is the hard core pre-workout product that gyms up and down the country have been demanding, its great value and it certainly delivers on performance
Brighton, United Kingdom (PRWEB UK) 16 August 2012
The most exciting product of the range is arguably the new pre-workout product called Muscle Bomb. Karl Schwick, UK Sales Manager adds," Muscle Bomb® is the hard core pre-workout product that gyms up and down the country have been demanding, its great value and it certainly delivers on performance."
Muscle Bomb® certainly packs a punch! The pre workout RTD contains the combination of one of sports nutrition's most research proven amino acids, pure L-Carnitine, along with the favourite combination of taurine and a high dose of caffeine.
Reflex Nutrition has also developed a "superior"isotonic energy drink in two variants, one without caffeine and one with. Managing Director, James Phillips explains, "We've taken what we've learnt from nearly two decades first-hand experience in sports nutrition and translated it into our brand new isotonic energy drink called The Edge®, it replaces more than just sodium and potassium, but also magnesium and zinc, it's a serious product for people who are tired of paying for just sugar and water."
Finally Reflex Nutrition have turned their attention to developing a virtually calorie free diet based RTD called Diet Carnitine. It's a simple but potent combination of an industry leading dose of 1,500mg L-Carnitine in a great tasting fruit flavoured drink with no added sugar.
The whole range of new ready to drink products is made in Reflex Nutrition's state of the art bottling plant at their headquarters on the aptly named Reflex Science Park near Brighton.
It's also one of the only ranges of energy drinks in the world to be made with 100% Green Renewable Energy.
The full range can be bought direct from Reflex Nutrition, stockists including gyms, health clubs and all good health stores from the 20th August. Gyms and Health Clubs are being offered a special deal that includes a stunning display fridge (Please contact us for more information).
Reflex®, The Edge® and Muscle Bomb® are registered trademarks of Reflex Nutrition.