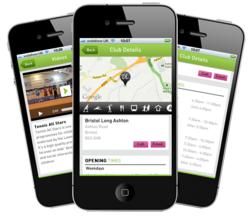 (PRWEB UK) 16 August 2012
The first of its kind from a major health and fitness operator, David Lloyd Leisure has launched a free UK mobile app giving exercise enthusiasts a taste of its premium experience - and its members direct access to their club while they are on the move.
The new, simple-to-use app, which is compatible with iPhone, iPod and iPad mobile devices (iOS 4.2 and above), includes a club finder, downloadable timetables for courses and classes and searchable profiles of personal trainers and tennis coaches, plus a whole host of other features.
Health and fitness fans can also watch introductory video guides presented by ITV1, Disney Channel and Nickleodeon presenter Anna Williamson, view photo galleries of club facilities, and access the services and expertise that are on offer at Europe's premier sports, health and leisure group.
Olympic bronze medallist and two-time World Championships silver medallist James Foad, who trains at David Lloyd Hampton, said: "I think it's great that David Lloyd Leisure has launched this new app! As a member who uses their club regularly, being able to access the information I need easily at the touch of a button - wherever I am - is invaluable."
The app, which will also be made available soon on Android, features:

App-dashboard – customised dashboard enabling users to view the information that matters to them
Club 'check-in'- allowing members to record their club visits
Timetables –to view and download schedules for courses and group exercise classes
Club finder and map - search for the nearest David Lloyd Leisure Club among the group's 80 UK venues
Home club – allowing members to view their club contact details and facilities
Find an expert – search and review profiles of personal trainers and tennis coaches
Club news and events –the latest news from a member's club, plus the option to enquire about attending an event
Notifications –up-to-date information on events, new product launches and offers
David Brosse, David Lloyd Leisure's head of digital marketing strategy, commented: 'This app has been devised on the basis of a simple premise – 'your club, your app' - reflecting our member focus and the importance of meeting our members' needs.
'Many of our members lead very busy lives, but want to keep healthy and fit, which is why we try our utmost to help them slot sport and exercise regularly into their daily routines. This app will make our programmes and expertise more readily accessible, at all times, even while they are on the move.
"The app is the initial building block for the provision of many new and exciting services we will be delivering over the coming months and years. New features for our app could include mobile bookings, music services, mobile payments, and the provision of engaging and educational videos; all of which will be a must for all health and fitness enthusiasts.'
The app has been developed by Bristol-based specialist mobile agency, AlwaysOnMessage.
To download, visit the App Store at:
http://itunes.apple.com/gb/app/david-lloyd-leisure/id548236972?mt=8
ENDS
Note to editors: For further information about this press release, contact the David Lloyd Leisure press office on 01707 289833 or email press(at)davidlloyd(dot)co(dot)uk .
About David Lloyd Leisure Group
The David Lloyd Leisure Group operates 80 clubs in the UK and a further 10 clubs across Europe. It has over 450,000 members and employs 6,000 people. This includes an expert health and fitness team of over 1,800, while it contracts the services of more than 400 tennis professionals. Across all clubs, David Lloyd Leisure has over 150 swimming pools (of which half are indoor) and offers over 10,000 exercise classes per week. Every week 20,000 children learn to swim at David Lloyd Leisure and 14,000 learn to play tennis. Its racquets facilities are unparalleled with 700 tennis courts as well as 180 badminton courts and 140 squash courts. Additional facilities include health and beauty spas, club lounges with free internet access, crèches, nurseries and specialist sports shops.