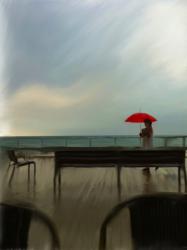 The Red Umbrella. Chris' most popular painting. Limited edition prints available.
Cardiff UK (PRWEB UK) 17 August 2012
Leading health magazine Aura has chosen 'The Torch' for its Summer edition front cover.
The Torch shows an athlete bearing the Olympic Torch on High Street, in Cardiff South Wales. "I'm delighted one of my paintings as been chosen for the front cover. I really like the feel of this painting" Says Chris Langley, 50, of Pontypridd and Cardiff.
To celebrate London 2012, Chris produced 'Time to Shine'. A painting depicting the olympic rings inspired by famous circles of London such as the Canary Wharf clock and the Underground logo.
Chris Langley has created stunning and vivid landscapes and cityscapes, some using an iPad!
In May 2012, Chris Langley had a solo exhibition at the Pontypridd Museum and Gallery. This exhibition was very successful resulting in many paintings being sold. The Metro newspaper and Media Wales published features on his work during May 2012. Also, galleries in Cardiff are currently displaying his work. One piece, 'London, Past and Present' has been accepted for exhibition for the IAS Summer Salon in London.
​
Luke Shepherd, Award winning sculptor, Devon. 'Thanks for sending me the link to your paintings. I love it when people get inspired and this thing called creativity just comes through .. its obviously happening to you! They are really fresh and alive. They appear naive but are really bold and decisive.
It's all quite an achievement considering his work only went public in March 2012. Chris has over 30 years experience in painting, and merging abilities in photography and video, won several awards for short music videos.
In june 2012, Chris has been accepted as a featured artist on the biggest online gallery in the UK - Artgallery.co.uk, where a number of his works are displayed.
Chris Langley's work can be viewed at christopherlangley.net
Chris Langley's art is sponsored by Matol Km, a unique herbal/mineral tonic. Matol is good for low energy conditions and skin problems such as psoriasis.