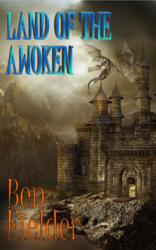 The Dragons Are Coming
(PRWEB UK) 17 August 2012
The world of Young Adult Fiction has been in something of a state of limbo since the end of the Harry Potter series. Vampires have lost their sparkle since they began to sparkle and fairy tales failed to come up with the magic. Now it's the turn of dragons.
Author Ben Fielder's new book, Land of The Awoken, has already gained a huge cult following among teen readership and is now also proving popular with adults.
"I set out to write the book I always wanted to read as a youth," said Ben. "And I ended up writing one that I would still enjoy as an adult."
Ben may well have been inspired by the legendary Valkyries as his day job is with The Royal Opera House. "I originally started out in acting," Ben continued. "Then music, but it was writing that really drew me."
Ben is following close on the success of his novelist and actor mother, Elizabeth Revill, who has just published her fourth novel, Against The Tide, with Belvedere Publishing.
Asked if there was any family rivalry going on he said, "No, it's great to have someone close to you with the same interest so you can throw ideas around together."
Land of The Awoken finds the protagonist travelling to a magical realm just beyond ours where he has been called to protect both worlds against an evil warlord and his entourage of dragons. Falling neatly into the gap left by Harry Potter, Ben is excited by the early success his novel is showing and is already planning the next in the series.
Land of The Awoken is published by Mirador Publishing and is available through all good bookshops and online stores both as a paperback and ebook in all major formats.
Ben Fielder can be contacted via his website at http://www.ben-fielder.co.uk
Mirador Publishing can be contacted via their website at http://www.miradorpublishing.com