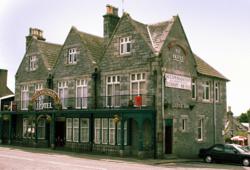 (PRWEB UK) 20 August 2012
Acting on behalf of Annette Menzies, French Duncan LLP, Trustee in the Sequestration of W W Christie the leading hotel and licensed property specialists Colliers International have sold the Ellangowan Hotel, St John Street, Creetown, Newton Stewart, Dumfries & Galloway, DG8 7JF.
The Ellangowan Hotel is better known to film buffs as the fictional "Green Man" from the iconic 1973 British film, The Wicker Man, where the pints were pulled by Britt Ekland and supped by Edward Woodward as he investigated the mysterious Summerisle.
The main street village hotel has 9 bedrooms, dining room, lounge bar and private accommodation.
There are three famous scenes which take place in "The Green Man" and were filmed at the Ellangowan: The first burst of song in the film, the lewd "The Landlord's Daughter" takes place in the bar, as does the infamous rhythmic, writhing dance by a naked Britt Ekland. The Ellangowan is also the site of the scene where Ekland plants a burning wax hand next to Woodward's bed.
The hotel has been purchased by Derrick Jobb who also owns the Bank of Fleet Hotel in the nearby village of Gatehouse of Fleet, where he has just completed the refurbishment of the dining room which has already boosted income.
Alistair Letham, Director with selling agents Collier International commented "Whilst the Ellangowan Hotel is your quintessential main street, Scottish village hotel – the core of the community – it came to fame as being the film set for the bar of the Green Man Inn in the Wicker Man film, a cult classic around the world, and is therefore visited by film buffs from all over who search out such venues and sets.
"New owner Derrick Jobb will undoubtedly develop the business creating a good community village pub whilst catering to the many visiting tourists to Dumfries & Galloway although it must be said that a naked Britt Ekland was not included in the fixtures and fittings of the hotel."
The purchase price was not disclosed but selling agents Colliers International confirmed that it was close to the asking price set by the seller.
For further information, photographs or to arrange an interview with Alistair Letham or Derrick Jobb, please contact:
Sally Hooker Associate Director, PR 020 7344 6706
Notes to Editors:
Colliers International is one of the UK's top real estate advisory organisations, employing over 700 people in 12 full service offices across the UK and Ireland.
Colliers International provides a broad range of real estate consultancy services including, but not limited to, general practice surveying, valuation & advisory services, lease consultancy and destination consulting.
Globally, Colliers International is the world's third largest commercial real estate firm, employing over 12,000 professionals in 522 offices in 62 countries.