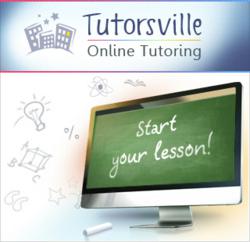 Tutorsville.net is offering 2 free hours of tutoring to customers who register for any tutoring package.
Valley Cottage, NY (PRWEB) August 17, 2012
For many students, getting a tutor is essential for mastering course material and getting good grades. In the past, hiring a qualified tutor was costly, difficult, and inconvenient, but Tutorsville.net is a new site dedicated to changing all that. This soon-to-launch online tutoring service boasts top-rated, degree-holding tutors, tutoring at all levels and for all subjects, 24/7 service, tutors located around the world, and affordable rates.
To celebrate the new website launch, Tutorsville.net is offering two free hours of tutoring to customers who register for any tutoring package.
"We are in the process of upgrading our website, and to thank our customers for their patience, we are offering two extra hours of tutoring with the purchase of any tutoring package. These hours can be used as soon as our online classrooms are upgraded and on any subject of the customer's choosing," said a company representative.
Additionally, those interested in trying these tutoring services can purchase a 30 minute trial for just 9 dollars.
The team at Tutorsville.net is touted by the company as the best in the industry.
"We have the strictest hiring standards among online tutoring companies," explains the company's representative. "We thoroughly screen and test all who wish to join our team to make sure they have the knowledge and skill set to be a top-rated tutor. Furthermore, our degree-holding tutors are located all around the world, so we can better serve our global customer base."
One of the things that sets Tutorsville.net apart from other online tutoring services is its 24/7 approach to providing tutoring. "Our tutors are available for live tutoring 24 hours a day, 7 days a week," the representative continued. "No matter when you need help, we are here…even in the middle of the night." Students who need tutoring can get one instantly, or they can schedule their tutoring sessions in advance through the website so that a tutor is on standby to assist them.
Another feature of this online tutoring service is their ability to offer tutoring in any subject at any level. "Thanks to our diverse team of talented tutors, we can assist any student who needs a tutor. From secondary school students to graduate students, we help them all," he said.
The online tutor services offered by the company are priced to fit the average student's budget. Services can be purchased in packages from 4 hours up to 24 hours, and the more hours a student purchases, the better the rates.
"When you choose Tutorsville.net, you get more than you pay for. Our services are competitively priced, and they are loaded with value-added features that other companies cannot offer," the company's representative concluded.
For more information on this popular online tutoring service, visit http://www.Tutorsville.net.