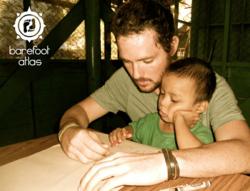 We provide voluntourists resources to help them decide which international volunteer organization suits them best
Charlottesville, VA (PRWEB) August 22, 2012
By offering independent, objective reviews of hundreds of international volunteer opportunities, Barefoot Atlas helps travelers interested in volunteering abroad to discover opportunities to contribute meaningfully to social, ecological, and educational progress in developing nations. In-depth profiles of international volunteer organizations help volunteers find opportunities that are best suited to them and their unique abilities, passions, and experiences; and where they will have the greatest impact by donating just their time and effort.
"As voluntourism booms and the number of opportunities continues to grow, choosing a volunteer project is becoming increasingly difficult," says Chief Volunteer, Devin Welch. A Google search for "international volunteer opportunity" now returns over 17 million search results--an indiscernible mix of worthwhile projects and opportunistic businesses. Barefoot Atlas helps make sense of the burgeoning voluntourism landscape through its guidebooks and online resources, helping volunteers bypass expensive placement agencies to connect directly with grassroots volunteer projects abroad. "Across the developing world are thousands of incredible international volunteer organizations achieving astonishing results. We want to make sure that anyone interested in supporting their important efforts has the resources and information they need to decide which organization is the best fit for them, so they can get involved and start making a difference," says Welch.
Barefoot Atlas has already organized a community of willing contributors to the voluntourism movement by raising the funds it needed to publish its first guide book, Volunteer Central America, with a successful Kickstarter campaign earlier this summer. The volume highlights hundreds of extraordinary voluntourism opportunities in seven countries across Central America, with references to free and near-free volunteer adventures in such regions as the rainforests of Costa Rica, the white sands of Nicaragua, and the mountain highlands of Guatemala.
According to a recent survey, Latin America and Southeast Asia are the two most popular regions for volunteer travel*. Thousands of grassroots community-based organizations have emerged in these regions, to guide the efforts of well-meaning travelers. Tour operators have joined the movement, with 51% now offering volunteer activities and 41% considering adding them**. Even travel giant, Travelocity, is dipping its toes into voluntourism, offering a $5,000 Travel for Good grant for would-be voluntourists.
International volunteerism is on the rise, and according to to a recent CNN article***, more retirees are joining the volunteer travel movement, in addition to the typical college-aged voluntourist. Welch continues, "There is a shift underway in the tourism industry. By the millions, European, Australian, and North American travelers are choosing to spend their vacations volunteering in underdeveloped nations, helping communities address their social and environmental challenges. The old traveler's adage of 'Do no harm' has given way to a 'Do more good' mindset, as voluntourists adopt the more proactive goal of leaving a lasting positive impact abroad."
Barefoot Atlas' first guidebook, Volunteer Central America, is currently available on Amazon.com in print and on the iTunes Store in Apple iBooks format.

Foundation for Advanced Studies on International Development
** Adventure Travel Trade Association 2012 survey
*** Why do so many women go on volunteer vacations? (CNN)