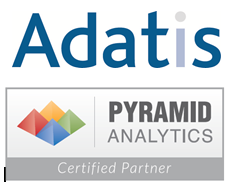 As a specialist Microsoft Business Intelligence company, deciding to partner with Pyramid Analytics was a simple decision
Amsterdam, Netherlands (PRWEB) August 17, 2012
In response to increasing demand for its BI Office Suite platform in Europe, Pyramid Analytics is developing a partner network across the region. Based in the UK, Adatis comprises a team of specialist Microsoft BI and Data Warehousing experts who assist their clients to transform large volumes of data into meaningful information that lets them act smarter, move quicker and grow faster.
"Adatis have a track record of great delivery with major BI projects, and, as a key Microsoft BI specialist firm that delivers powerful solutions to clients, they bring a great depth of knowledge to our Customers and prospects, for both Pyramid BI Office and the Microsoft SQL Server Platform. In partnering with Adatis, we are able to extend the expertise that we have in-house, helping our customers to deploy modern MS Office look and feel solutions driving better business understanding and analysis" said Steve Cowell, Regional Head, UK & Ireland at Pyramid Analytics.
Sacha Tomey, Director of Adatis, said "As a specialist Microsoft Business Intelligence company, deciding to partner with Pyramid Analytics was a simple decision. Our clients want to cross analyse global markets and sales channels, perform self-service analysis on customer profitability and save money with efficient operational capacity planning. The Pyramid Analytics bioSuite product set fits the gap in the Microsoft BI stack for integrated, online analysis, providing the necessary insight that drives business value and can integrate with clients MS Office toolset and SQL Server platforms. We also believe that a combination of Pyramid's BioSuite tools and the newer Excel / PowerPivot products provides an extensive solution to the informational needs of most organisations".
Commenting on the appointment of Adatis, Herbert Ochtman, EVP of Sales & Business Development at Pyramid Analytics, said "We are delighted to welcome Adatis into our Worldwide Partner Programme. The Adatis team has developed an enviable client list and has wider Microsoft BI skills that it can bring to bear on Pyramid Analytics' BI programmes".
About Pyramid Analytics
Pyramid Analytics delivers intuitive enterprise level Business Intelligence through an integrated, rich and highly scalable dashboard and analytic application for all types of business users. Using Microsoft's Office concept, the BI Office or "bioSuite" range is custom designed for Microsoft SQL Server and Analysis Services and is accessed through a single, web-based familiar interface.
Pyramid Analytics has a Microsoft ISV BI Gold Competency and is headquartered in the Netherlands with operational centres in Israel, the EU and the USA.
About Adatis
Adatis is a trusted Microsoft Gold Certified Business Intelligence partner that designs and delivers enterprise class data management and decision making capabilities. Formed in 2006, Adatis has built a reputation on quality, expertise and tangible customer value through the delivery of management information and performance management solutions to a variety of industry verticals. Our range of offerings includes Business Intelligence, Data Integration, Master Data Management, Data Warehousing, Reporting, Analytics and Data Visualisation. We provide end-to-end solutions through consulting, design, implementation, support and training services.
The Adatis team bring innovation and insight to help household name clients transform large volumes of data into meaningful information that lets them act smarter, move quicker and grow faster.
Adatis is an acknowledged leader in the Microsoft Business Intelligence community and employ the best people. Our technical consultants are highly experienced, creative, passionate and articulate people who serve both clients and the technology community through their skills, commitment and ideas. All of our consultants are Microsoft Business Intelligence (MSBI) certified and certified SCRUM Masters.
Adatis is a privately owned, UK based company, headquartered in Farnham, Surrey.
For more information contact:
Louisa Moore, Marketing and PR Officer, Pyramid Analytics
+44 1628 918 102 and louisa.moore(at)pyramidanalytics(dot)com
Sacha Tomey, Director, Adatis
+44 1252 267 777 and sacha.tomey(at)adatis.co(dot)uk