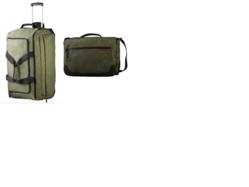 The bags are designed with practical internal features
(PRWEB UK) 18 August 2012
Luggage Superstore being the largest independent online store for Samsonite luggage has brought to their customers the relaxed looking styles of this Samsonite range, the Debyte. The ultra hardwearing range is manufactured in bags and duffles. The bags are manufactured with a ripstop fabric, not to mention the pure genius thought behind designing the duffles with handles on top of bag, at the side of the bag and even at the bottom. The bags are designed with practical internal features such as the music pocket with headphone gates and laptop protection.
Paul Steadman, Managing Director of Luggage Superstore says: - "Samsonite has always pushed the boundaries of innovation continuously changing the travel world. Bringing this combined style of casual and business bags is yet another step forward in understanding the travellers' needs."
Travellers looking to find a design that brings ease of use coupled with practicality and still looks relaxed and business-like, the Debyte is the definitely the range to look at. Luggage Superstore's team loves this range as it captures the essence of the classy-casual strong look in one mix.
Luggage Superstore established site is in West Kingsdown, Kent. Their aim is providing competitive prices of the highest quality luggage and top calibre Customer Service for online luggage shopping.
Trina Chee-a-kwai
Luggage Superstore
01474 854666
Email information