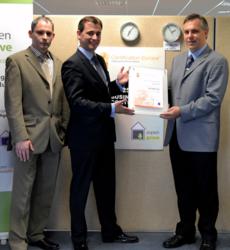 (PRWEB UK) 15 August 2012
Dublin, August 15, 2012 - Technology firm Aspen Grove Inc. was awarded the highly respected BS25999 Business Continuity Managemen t (BCM) systems certification, from Certification Europe in Co. Kerry today. In 2010 Certification Europe awarded Aspen Grove ISO 27001 Information Security Management (ISM) certification; a standard which assesses the levels of risk across the entire company. A natural progression from this standard was for the company to complete BS25999 certification, as the Business Continuity standard has been developed to allow businesses to remain operational during disruptions or disasters. The overall aim of the BCM standard is to protect the company and staff while preserving the organisations reputations and instilling confidence among Aspen Grove's clients.
Michael Brophy, CEO of Certification Europe commented that:
"Aspen Grove has shown great foresight in attaining both information security and business continuity management systems certification from us. The recent crisis which swept through the banking sector has firmly established the need for companies to be extremely diligent in addressing business continuity management processes internally, particularly in relation to technology. I believe that Aspen Grove is at the forefront in business continuity management systems application in Ireland today, and it presents a premier model for companies to follow in relation to contingency planning and data protection.
The company holds an enviable list of high profile clients within the banking and financial services sector. With it comes a responsibility to the clients to ensure that all of their information is securely kept, and that stringent policy processes protect it against potential threats or disasters. BS25999 provides this certainty. Business Continuity Planning (BCP) is seen as a continuous activity with regard to planning, exercising, monitoring and improving. The company has clear "owners" with BCP responsibility across all business functions and a set schedule for Business Continuity exercises which occur throughout the year.
Mr Seán Ryan, CEO of Aspen Grove expounded the numerous benefits of BCM certification at the ceremony:
"When Enterprises look for Solution Partners, they want to know three things: 1) Can you provide a solution 2) is my data safe and secure, and 3) what happens if something breaks. We meet these aforementioned requirements via our certification to the international standards ISO 27001 Information Security Management and Business Continuity Management, which were awarded to us by Certification Europe. Particularly BS25999 certification differentiates us from the crowd as we are one of the only software solutions companies to hold this coveted standard in Ireland. Now our Enterprise partners know they can trust us because of our investment in these standards."
During the audit process Certification Europe noted how Aspen Grove invested considerable time and finances into researching and analysing possible models which meet the needs of the company's technical solutions software and also comply with the standard.
Every company should establish a business continuity plan which they can set in motion if an organisational disruption occurs. Certification Europe can commence this process for any type of organisation by educating the company management and staff about BCM via specific and customised training and certification. Please visit our website http://www.certificationeurope.com for further information.
Ends
Notes to the Editor
Aspen Grove Inc. is the first Irish software company awarded BS25999 Business Continuity Management Systems certification by Certification Europe. The only two other companies that were awarded BS25999 are the Revenue Commissions and BT Emergency Callout Service.
Company Profile – Certification Europe
Certification Europe is an accredited certification body which provides International Organization for Standardization (ISO) management system certification and inspection services to organisations globally. ISO Standards provide a recognised framework to achieve best practice management. Certification Europe can certify your organisation to Quality (ISO 9001), Environmental (ISO 14001), Health & safety (OHSAS 18001), Energy (ISO 50001), Sustainable Event Management (ISO 20121), Business Continuity (ISO 22301), IT Service (ISO 20000) and Information Security Management (ISO 27001). The company currently assesses over three thousand organisations internationally on an annual basis. Clients range from micro enterprise to multinationals and include Government Departments, State Bodies and private organisations. We also provide AIC inspections Services within the Dry Cleaning and Vehicle Refinishers sector. Headquartered in Dublin, Ireland, Certification Europe has additional operations in the United Kingdom, Italy, Turkey and Japan.
Company Profile – Aspen Grove
Aspen Grove is an Enterprise solution provider. Aspen Grove enables clients with property portfolios to manage more cost-effectively, securely and with more visibility on 3rd parties. Our property management solutions track the processes, interactions and financial transactions between all parties, reducing cycle times, benchmarking performance, and ensuring compliance. Aspen Grove is a Microsoft Gold Certified Partner, is ISO 207001 security accredited, and is BS25999 business continuity accredited. Clients include Fortune 100 banks, international property firms, and many real estate agents and vendors. Headquartered in Tralee Co. Kerry with offices in Maryland USA, Aspen Grove employs 71 staff and has tripled revenues in the last three years. Seán Ryan, CEO of Aspen Grove, is currently a finalist in the Ernst & Young Entrepreneur of the Year Programme 2012. For more information see: http://www.aspengroveinc.com