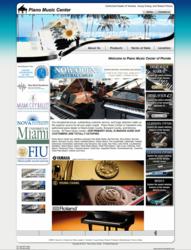 OUR PRIMARY GOAL IS MAKING SURE OUR CUSTOMERS ARE TOTALLY SATISFIED.
Miami, Florida (PRWEB) August 16, 2012
Piano sales and service has contributed to the success of Piano Music Center in Florida. After serving customers at the Pembroke Falls location for many years, Piano Music Center has recently opened an additional location in Coral Gables to better serve customers of the Miami-Dade and Monroe counties. Piano Music Center's exceptional prices, outstanding customer service, and huge selection has made it the superior source for all your piano needs.
Visit the new location at:
Piano Music Center
1430 S.W. Dixie Hwy. Suite #117
Coral Gables, Florida 33146
*Located in the Santona building across the street from the Bank of America parking lot.
Piano Music Center is Yamaha's only authorized piano dealer in Miami-Dade County, Broward County, and Monroe County. Piano Music Center has a large selection of new Yamaha, Young Chang, and Roland grands, consoles and uprights for sale. They also have a great selection of Yamaha Clavinova digital pianos and Yamaha Disklavier player pianos for sale. Stop by the new location and try out the latest and new models by Yamaha, Young Chang, and Roland.
Used or pre-owned pianos for sale are also available. Inventory is always updating so be sure to check in frequently. You might just find that right piano at an affordable cost.
Piano Music Center is a family owned and operated business. Using many years of experience both in the music industry in general and the piano industry in particular, Piano Music Center has done their best to create the proper atmosphere for you to choose the instrument that fulfills your desires and needs. Piano Music Center provides the best choice of products, the best of service, and the best of education about their products so that you feel comfortable and satisfied making your decision.
Piano Music Center has satisfied customers from Belle Glade, Big Pine Key, Boca Raton, Boynton Beach, Broward County, Dania, Deerfield Beach, Delray Beach, Fort Lauderdale, Hallandale, Hialeah, Hollywood, Homestead, Islamorada, Key Biscayne, Key Largo, Key West, Lake Worth, Loxahatchee, Marathon, Miami Beach, Miami, North Miami Beach, North Palm Beach, Opa Locka, Pahokee, Palm Beach, Pembroke Pines, Pompano Beach, South Bay, Sugarloaf Shores, Summerland Key, Tavernier, West Palm Beach, Weston and more.
Please visit Piano Music Center at: http://www.pianomusiccenter.com