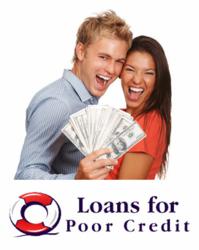 We invite them to experience an even more extensive selection of lenders to choose from than ever before. All it takes is two minutes to apply
NY,NY (PRWEB) August 22, 2012
LoansForPoorCredit.net announces that its leading online loans for bad credit introduction service has been made an even richer resource due to improvements to the platform. Specifically, it has upped the number of lenders whose loans can be compared with the search tool. Consumer feedback spurred the improvements and will continue to influence further advances to the aggregator over the coming weeks. The service is available for free for US based individuals that wish to compare various finance options to suit their low-credit scores.
Since the increase in lenders' membership to the service, LoanForPoorCredit's online application is directly linked to several hundred bad credit lenders that can provide approvals for successful applicants in less than two minutes. It is expected that the number of lenders associated with the website will continue to rise.
A spokesperson for LoansForPoorCredit.net formally made the announcement.
"LoansForPoorCredit has taken on board some great feedback from our users and taken the decision to implement some of their recommendations. It is with great pleasure that we announce the invitation of some more reliable, trusted and professional adverse credit lenders to join our circle of members."
The spokesperson was keen to outline the aspects of the service that have received customer endorsement.
"We have retained the most popular aspects of how the website works due to great comments from users. The application form is still short, confidential and free from any credit scoring. Customers are able to complete the fast online application with increased confidence that they will find a wider selection of bad credit personal loans than before. For successful applicants, the possibility of enjoying those loan funds quickly is now even greater with the wider inclusion of specialist lenders that have great track records for saying "yes" where many offline lenders or banks say "no" because of credit history."
Independence and impartiality are two factors that the website believes make its service particularly suitable for those with poor credit to compare their finance options. The presence of these aspects is enhanced by the larger pool of lenders included in the improvement program.
"Because we are an independent loan aggregator and not endorsed any lenders, consumers can enjoy the level of impartiality that our service gives. We can help introduce intending borrowers to some of the best lenders out there and give them a convenient way to compare finance options online. We invite them to experience an even more extensive selection of lenders to choose from than ever before. All it takes is two minutes to apply and those much needed personal loan funds can be in a bank within one to twenty-four hours later."
A review of LoansForPoorCredit reveals that an assortment of lenders are connected to the new search-and-match service, each offering different loans, products and interest rates.
To learn more about the aggregator and to make a free, quick online application go to: http://www.loansforpoorcredit.net/apply-now