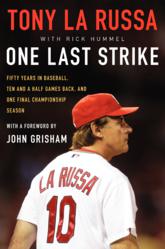 (PRWEB) August 15, 2012
The St. Louis County Library Foundation and the St. Louis Cardinals present a special evening with legendary Cardinals manager Tony La Russa for a discussion and signing of his new memoir "One Last Strike: Fifty Years in Baseball, Ten and a Half Games Back, and One Final Championship Season."
The event will take place at Library Headquarters (1640 S. Lindbergh Blvd.) on Friday, September 28 at 7:00 p.m. Ticket packages are $35 (admits ONE and comes with one copy of "One Last Strike) or $50 (admits TWO and comes with one copy of "One Last Strike). Additional books will be available for purchase from Left Bank Books.
The format of the evening will be an onstage interview followed by questions from the audience. La Russa will sign books following the interview (three books per person, "One Last Strike" only, no memorabilia).
After 33 seasons managing in Major League Baseball, Tony La Russa thought he had seen it all--that is, until the 2011 Cardinals. Down 10 and a half games with little more than a month to play, the Cardinals had long been ruled out as serious postseason contenders. Yet in the face of those steep odds, the team mounted one of the most dramatic and impressive comebacks in baseball history, making the playoffs on the night of the final game of the season and going on to win the World Series despite being down to their last strike--twice.
Now La Russa gives the inside story behind this astonishing comeback and his remarkable career, explaining how a team with so much against it was able to succeed on baseball's biggest stage. La Russa also lays bare his often scrutinized and frequently misunderstood approach to managing and speaks candidly about his decision to retire. The end result is a passionate, insightful and remarkable look at our national pastime that takes you behind the scenes of the comeback that no one thought possible and inside the mind of one of the game's greatest managers.
Tony La Russa managed the St. Louis Cardinals from 1996 to 2011, as well as the Oakland A's and the Chicago White Sox. He has three World Series wins, six league championships, and five Manager of the Year awards, and is ranked third in all-time major league wins.
Proceeds from this event will support the St. Louis County Library Foundation's Gift of Reading pre-school literacy program.
Program sites are accessible. Upon two weeks notice, accommodations will be made for persons with disabilities. Contact St. Louis County Library by phone 314-994-3300 or visit http://www.slcl.org.