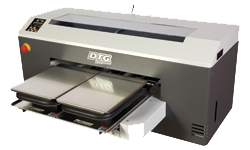 Tampa, FL (PRWEB) August 16, 2012
ColDesi, Inc. has begun shipping the newest generation of DTG Brand direct to garment printers – the DTG M2.
The DTG M2 is built from the ground up to deliver performance for today's direct to garment professionals. With blazing fast print speeds, a newly revamped White Ink Management System (WIMS) and an extra large print area (24" x 16.7") – the DTG M2 again raises the bar for all other manufacturers.
The M2 is the first DTG Brand printer not to be based on an Epson paper printer, thus eliminating a lot of the challenges faced by "repurposing" desktop printers. With the latest version of the industry standard DTG RIP Pro C5, users will find high volume production and easy work flow management a synch.
To learn more about the exciting M2 or any of the other DTG Brand products visit http://www.dtgprintermachine.com or contact ColDesi at 877-793-3278; email sales(at)coldesi(dot)com.