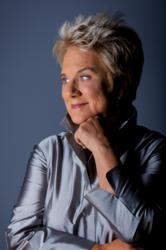 St. Louis, MO (PRWEB) August 17, 2012
The St. Louis County Library Foundation is pleased to present acclaimed artist and City Museum co-founder Gail Soliwoda Cassilly for a discussion and signing of her memoir "Saltwater" on Friday, September 7, at 7:00 pm at Library Headquarters, 1640 S. Lindbergh Blvd. The program is free and open to the public. Books will be available for purchase at the event.
St. Louis sculptor, Gail Soliwoda Cassilly, has taken to words, crafting a vibrant and emotionally compelling portrait of life.
"Saltwater" springs from Polish American roots in a working class neighborhood of Erie, Pennsylvania and flows, unexpectedly, through an exotic and spiritual stretch of life and learning in Africa. From there the waters of adulthood turn passionately choppy, tossing about the common ingredients of life in a rough and rich blend of zany adventure and personal reconciliation. The entire ride is engaging and gripping, infused with bright wit and poetic execution. With an artist's eye and sensitivity, Cassilly superbly crafts and reveals an utterly memorable composition of life that is well worth the read.
At 19, Gail Soliwoda Cassilly joined a missionary order of nuns and spent a decade living and working in the U.S., Europe, and Africa. Upon completing her M.F.A. degree, she settled in St. Louis, Missouri and established her reputation as a teacher and sculptor. She is most notably recognized for co-founding the nationally acclaimed City Museum, along with her former husband Robert Cassilly.
Program sites are accessible. Upon two weeks notice, accommodations will be made for persons with disabilities. Contact St. Louis County Library by phone 314-994-3300 or visit http://www.slcl.org.