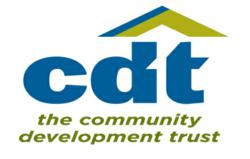 New York, New York (PRWEB) August 16, 2012
The Community Development Trust (CDT), the country's only private real estate investment trust (REIT) with a focus on providing capital for the preservation of affordable housing, today announced that Merilyn Rovira has joined the company as Senior Vice President for Strategic Initiatives and Capital Solutions. Merilyn will focus her efforts on developing and implementing new sources of long-term debt and equity capital.
Merilyn brings more than 25 years of experience in community development and affordable housing to her new role at CDT, as well as a history with the organization itself as one of CDT's founding officers in 1998. Merilyn spent the last twelve years with Fannie Mae in a number of senior positions, most recently as a Director in their Multifamily and Community Development group where she led Fannie Mae's community development activities for the Mid-Atlantic region, including multifamily debt, asset management, workouts, and grants. Previously, Merilyn generated nearly $500 million a year in small multifamily loans as a national account manager for two DUS lenders and was jointly responsible for implementing Fannie's $18 billion, five-year multifamily investment plan in her capacity as their Senior Deputy Director for NJ.
Prior to her work with Fannie Mae, Merilyn spent more than eight years in senior roles at the Local Initiatives Managed Asset Corporation (LIMAC), which created a secondary market for affordable housing mortgages, and three years with the New York City Department of Housing Preservation and Development (HPD). She holds a BA in economics from the University of Colorado and a Masters in City and Regional Planning from the University of California, Berkley.
"Merilyn boasts an impressive track record in community development and, specifically, in affordable housing," said Joe Reilly, president and CEO of CDT. "Her extensive career has produced excellent relationships with lenders, developers, government officials and nonprofits as well as an acute understanding of how to address the housing needs of underserved communities. Merliyn's background provides her with an ideal mix of experience to help CDT meet its goals for the future, and we are looking forward to welcoming her back."
As a private real estate investment trust with a social impact mission, CDT operates as a double bottom line organization by utilizing creative financial solutions to provide debt and equity capital to underserved real estate markets while seeking attractive returns for shareholders.
"This new position will allow me to re-engage in CDT's critical work in communities," said Merilyn regarding her new role. "I'm excited to help position CDT for future opportunities and to contribute to its continued success."
###
About CDT
CDT is the country's only private real estate investment trust with a focus on providing capital for the preservation of affordable housing. Working with local and national partners, our organization makes long term equity investments in affordable housing and both originates and purchases long-term mortgages which supports the development and preservation of affordable housing. After more than twelve years of operations, CDT has provided over $847 million in debt and equity capital to properties in 42 states -- helping to preserve and create more than 32,000 units of affordable housing.