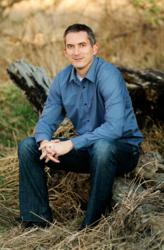 St. Louis, MO (PRWEB) August 21, 2012
The St. Louis County Library Foundation is pleased to present a Reading Garden Event Series program with breakout young adult fantasy author James Dashner, who will discuss "A Mutiny in Time," the first installment in Scholastic's new multi-platform adventure series, "Infinity Ring." The event will be on Thursday, September 13 at 7:00 p.m. at Library Headquarters, 1640 S. Lindbergh Blvd.
The program is free and open to the public. Books will be available for purchase at the event from Classroom Library Company.
History is broken, and three kids must travel back in time to set it right! When best friends Dak Smyth and Sera Froste stumble upon the secret of time travel -- a hand-held device known as the Infinity Ring -- they're swept up in a centuries-long secret war for the fate of mankind. Recruited by the Hystorians, a secret society that dates back to Aristotle, the kids learn that history has gone disastrously off course.
Now it's up to Dak, Sera and teenage Hystorian-in-training Riq to travel back in time to fix the Great Breaks and to save Dak's missing parents while they're at it. First stop: Spain, 1492, where a sailor named Christopher Columbus is about to be thrown overboard in a deadly mutiny!
Written by a team of six bestselling and acclaimed authors, this exciting new multi-platform series combines books, an interactive "Hystorian's Guide" map feature and a fully-immersive online game experience where readers travel back in time to fix history. James Dashner has written both the first and final installments in the series.
James Dashner is the New York Times bestselling author of the Maze Runner trilogy and the 13th Reality series. Born and raised in Georgia, he now lives with his family in the Rocky Mountains.
St. Louis County Library Foundation's Reading Garden Event Series hosts free family events with authors and musicians. Sponsors include Commerce Bank, Companion, and the Sara Guth Costigan Memorial Fund.
Program sites are accessible. Upon two weeks notice, accommodations will be made for persons with disabilities. Contact St. Louis County Library by phone 314-994-3300 or visit http://www.slcl.org.