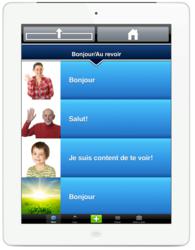 Countless French-speaking families have asked us to help solve this urgent problem
Montreal, Quebec (PRWEB) August 16, 2012
MyVoice Inc. today announced TalkRocket Go Français, a new app that will help millions of Francophones with communication disabilities to speak out loud.
The development marks a new chapter for the disability communities in France, Quebec, Switzerland, Belgium, and several African Francophone countries.
Previously, French speakers with disabilities were excluded from the benefits of new assistive apps for devices like the iPad because these products were rarely developed for French.
Now, with the launch of TalkRocket Go Français, an estimated 1.5 million Francophones with speech disabilities have an effective and affordable option for verbal communication.
"Countless French-speaking families have asked us to help solve this urgent problem," said Tony Gross, MyVoice's Community Director. "One family was even told that their child would have to learn English to have any hope of accessing a recommended communication aid. As a parent of a child with special needs, I know what a difference our new app will make in their lives."
TalkRocket Go Français uses voice synthesis technology to provide lifelike verbal communication for those with disabilities including Autism, Cerebral Palsy, Stroke, Traumatic Brain Injury, Parkinson's disease, ALS, and many others. TalkRocket Go's English edition has already helped more than ten thousand users participate in social life, access education, gain employment, and share the simple joy of speaking.
"This isn't just innovative technology, it's a force for social good," said Aakash Sahney, MyVoice's Chief Technology Officer. "TalkRocket Go Francais will help Francophones with speech disabilities overcome discrimination and exclusion. It is a life-changing product."
TalkRocket Go Français features groundbreaking technologies including "Locabularies" that use GPS to offer useful phrases based on a user's location; Supporter Studio, an online tool that lets families, teachers, and therapists work together to customize users' pictures and vocabulary; and Swipe Storytelling, a virtual flip-book that makes it easy to tell stories and practice life skills.
TalkRocket Go is also the world's most physically accessible app, with input technologies that make it easy to use for those with severe tremors, weakness, and other difficult motor challenges.
"I can't wait to hear what our new French-speaking users have to say," said Alex Levy, MyVoice's CEO. "It's amazing what a person can express when they finally get the the right tools in their hands."
TalkRocket Go Français is the third app from MyVoice, the multi-award-winning assistive technology company.