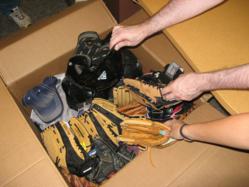 The lessons learned on the baseball field go unnoticed by the kids; however, they impact the rest of their lives."
Pittsburgh, PA (PRWEB) August 20, 2012
For the second consecutive summer, AIReS' company drive for the Roberto's Kids charity organization was a profound success! Throughout the months of July and August, employees put forth their best efforts to contribute to the drive. Roberto's Kids is a New York based program that donates new and gently used baseball equipment to less fortunate children in Third World countries, and supports volunteer programs to build and develop organized baseball programs in poor communities. AIReS has partnered with Roberto's Kids for the past two summers to help them support their mission.
In just one short month, employees at our headquarters and branch offices were able to collect over 230 items and a total of $1,060 to contribute to Roberto's Kids! AIReS also received outside contributions from four local corporate donors, bringing in an additional $300.
AIReS' employees worked diligently to collect items for Roberto's Kids; a companywide raffle was also held to auction off several great prize incentives to participating employees. All departments engaged in a little friendly competition during the drive; teams competed to bring in the highest number of donations in items and monetary gifts combined.
A few of our donors spoke about their personal stakes in this drive. Expense Management Account Coordinator (EMAC) Pam Flara says she has learned from growing up in a large, sports-enthused family that hard work pays off and every little bit goes a long way.
"It also gives you valuable tools for life lessons," Ms. Flara said about the benefits of team sports, "It's not always about winning the game, but the knowledge, pride and sportsmanship you take from it."
President Jeff Wangler commented on the significance of the local Pittsburgh ties that are the heart of this particular cause, named for the late former Pittsburgh Pirate Roberto Clemente. Mr. Wangler also stated why it's such an important cause to support:
"Roberto Clemente was known for giving back to those who were less fortunate – this is a way to honor him and help less fortunate children who may not have had means to get baseball equipment on their own [let alone benefit from the programs]."
Another member of the AIReS EMAC team, Bill Waugh, echoed this thought when he shared his own opinions about the importance of this cause. Mr. Waugh coaches youth baseball teams and says there is no better feeling than teaching a child the fundamentals of this great game.
"The lessons learned on the baseball field go unnoticed by the kids; however, they impact the rest of their lives. Roberto's Kids is a fantastic organization because it gives those kids that experience," Mr. Waugh said, "Providing the Foundation with equipment my kids have outgrown to bring a smile to another young baseball player is worth any and all efforts."