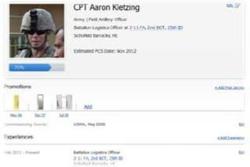 "RallyPoint is a meaningful undertaking that delivers real value to active U.S. military personnel and at the same time helps veterans find gainful employment" said Alex Karpovsky
Cambridge, MA (PRWEB) August 16, 2012
Kanda Software, a leading software development firm, announced today that it has worked with RallyPoint to develop software that assists U.S. military personnel to manage their careers and network with professional peers. RallyPoint is a completely secure and private platform for active members of the military. It allows servicemembers to stay connected as well as to expand their networks and provide transparency into fulfilling career options during and past their military service. RallyPoint is currently in beta and will be available to active duty, reserve, and transitioning service members later this year.
RallyPoint is a built upon cutting-edge technology to create a community-specific communications platform. While there are existing social networks, none have been focused on the specific career challenges faced by our military personnel. Beyond maintaining a trustworthy and private on-line community, RallyPoint offers meaningful resources and data visualization tools for servicemen and servicewomen that helps them identify key career opportunities throughout their careers. RallyPoint will also place military personnel into contact with mentors, colleagues, and potential employers when they are ready to transition.
Use RallyPoint to:
Claim your online military identity
Discover the best PCS opportunities
Grow your professional network across the military
Track career updates of military peers and units in real time
Bring focus to your military career
Lock in the perfect civilian job before transition
Yinon Weiss, CEO of RallyPoint, discussed the benefits of RallyPoint. "At its basic level RallyPoint will help reduce unemployment rates for veterans but that is just the beginning. Beyond that, our servicemen and servicewomen will have a powerful networking resource and unprecedented visibility into new opportunities to help them excel in both their military and post-military careers. Weiss continued, "We employ patent-pending technology to create network transparency by overlaying an individual's social graph across giant hierarchical organizations. We believe this can have great value not just in the military, but across any very large organization."
"As a citizen and a patriot it is an honor and a privilege to be a part of RallyPoint. It is a meaningful undertaking that delivers real value to active U.S. military personnel and at the same time helps veterans find gainful employment," said Alex Karpovsky, President of Kanda Software.
About Kanda Software Development
Based out of Massachusetts, Kanda is a proven software development and testing organization with over 20 years of experience and hundreds of satisfied customers. We are a fully integrated service provider specializing in delivery of custom software development in the areas of Information Delivery and Analysis, SaaS, and Mobile software development. At Kanda, we have deep experience in core development technologies as well as adding new technology capabilities as they enter the market. We build customers' and our own applications using the best practices utilizing agile development and constant feedback loop. Kanda has developed dozens of mobile apps for clients, as well as several that Kanda has built and offered directly to the market. Kanda is your partner for a world where software development is constantly in flux and continually being reinvented (C) Kanda Software 2012. For more information, please visit: http://www.kandasoft.com
About RallyPoint
RallyPoint uses patent-pending technology to revolutionize the way U.S. military professionals connect, develop, and pursue fulfilling opportunities throughout their careers. Created by veterans at Harvard Business School, RallyPoint leverages the private sector's best practices to the benefit of our military users and helps modernize the world's largest and most complex hierarchical organizations. For more information, please visit http://www.rallypoint.com